Questions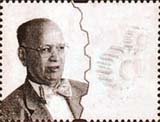 1. Identify the stamp.
2. When was it issued?
3. In what denomination had it been issued?
4. The stamp was issued to mark which occasion?
5. Where did he have his higher education?
6. What did he bring home from the western world?
7. Name the award conferred upon him by the government of India.
8. Where have the stamps been printed.