When teaching becomes coercive
Nanki Hans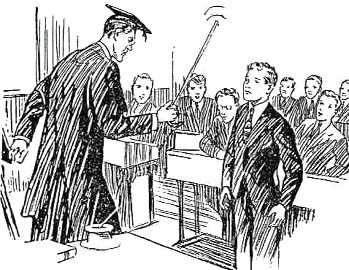 ACCORDING to a fable, Mughal emperor Shah Jahan, when in captivity, asked his son Aurangzeb to send a few children to his prison cell so that he could school them. "Your deserve to rule has not yet died in you", quipped his son. This perception of a teacher as one who wields absolute authority and that of pupils as his obedient subjects has not altered much since.
Though most modern schools pretend to have discarded the rod (read authoritarianism), it is common knowledge that there is more stick than carrot in schools. Schools and the government seem to have colluded to a joint pretense — that corporal punishment is a practice of the past. This is far from the truth. A perusal of cases reported in the media in the past two years reveals that physical punishment is often administered by schools for enforcing "discipline".
But why is absolute compliance desirable. Because regimentation makes the task of the instructor so much easier, it is a device/system for the convenience of the authorities and not of the pupil. This invariably leads to the student being torn between adult (teacher) approval and self-respect.
According to psychologists, pleasant memories do not make up for painful ones. Hence, the stick and carrot method is undesirable. There is increasing awareness among civilised societies to facilitate learning through a system of rewards alone.
This leads to the second question — what begets reward? In most cases it is the ability of the child to produce the right answer! It is a fact that children very often do not understand concepts, yet can produce the right answer and a perfect score eg habitual counting on fingers to get the correct answer for addition or substruction by KG and Grade I students. The method is a device to help children reach the right answer, but fails to help him comprehend the concept itself.
The true test of intelligence, say experts, is not how much we know, but how we behave when we don't know. One day, when my son was in KG, I inadvertently prepared him for a wrong exam. When I went to pick him up after school, he looked at me with a stern eye, complaining: "I had to think mama, think. You taught me the wrong lesson for the test." Obviously, he felt thinking was an unnecessary activity when rote was much more easier and rewarding. He scored 80 per cent and was unhappy as he yearned for the "reward-fetching" 100 (excellent remark by teacher and a star on the answersheet).
Children are quicker than most adults at grasping new concepts and acquiring skills but have their own way of figuring out things. Very often schools destroy their natural thinking abilities by insisting on conformist methods. Children naturally like to learn, but do not like being pushed around. Schooling rarely promotes learning as instructors insist on "packaging instruction with certification".
Says Paul Goodman of the deschooling society: "Institutionalised learning stunts and distorts natural intellectual development, makes students hostile to the very idea of education and finally turns out regimented, competitive citizens likely only to aggravate our current social ills".
A teacher may scar the mind of a child not by corporal punishment alone. Disparaging remarks as "he is good for nothing," "he is dull", "she is slow" etc can devastate a child's confidence. Withholding of approval or lack of appreciation is yet another way to do so. Yet parents are reluctant to take on the authorities — the reason being they have placed a halo around schools.
The focus is not on the child but the prestige that the name of the institution he goes to carries. A teacher seldom admits to wielding the stick. It is the child's word against the teacher's. Government officials like the DPI(Schools) almost never inspect schools for malpractices. This conspiracy of silence works against the pupil.
For children whose motivations do not conform to established expectations, their vulnerability in the system reduces them to fear and intellectual incompetence (Jules Henry). An inflexible approach can make teaching a subversive or coercive activity.
It is, indeed, unfortunate that while the European Union (EU) is in the process of finalising a charter of rights for pets, our children continue to suffer indignities at the hands of those who are supposed to be care-givers.
April 23, 2003 — 4-yrs-old thrashed with a leather belt by principal's 21-year-old son in Jassowal village in Ludhiana.

January 28, 2003 — Students of a Navodaya school in Balachaur, Nawanshahr, flee to escape frequent hitting with bats.

December 13, 2002 — Students of a school in Patiala kicked in the groin by teacher during exam.

November 29, 2002 — Class VI students in a school in Ludhiana gets 5 stitches on her right eyelid after being hit by teacher.

Nov 2, 2002 — Teacher of a private school in Adampur writes ''monkey, donkey'' on a student's shirt and orders him to take a round of all classrooms.

Nov 11, 2002 — PT teacher of a private school in Chandigarh sheares off the hair of two students for indiscipline.

Oct 1, 2002 — 20 students of a school in Chandigarh caned mercilessly for not bringing books to school and made to sit on the floor for three days.

Sept 13, 2002 — 55 students of an academy in Anandpur Sahib run away to escape ''ill-treatment'' by teachers.

Sept 2, 2002 — Two class IV students of a govt school slapped by fellow-students on orders of a teacher; teacher was transferred.

May 27, 2001 — A private school in Chandigarh sacks a teacher for hitting a student on the head and injuring him.

May 19, 2001 - 10-year-old beaten black and blue by the principal of a model school in Chandigarh.
In 99 per cent cases, the victims are boys.