Even people whose ability to feel outrage has been dulled by the repeated appearance of the word 'scam' in public life, have greeted the latest news reports of 'money for admissions' with a sense of disbelief. While some are horrified that hours of honest study put in by lakhs of students could count for naught, others are surprised that the law-enforcement agencies have finally managed to zero in on a racket that has been around for years. Says the centre manager of a Chandigarh-based coaching institute who does not wish to be named, "Paying money to secure admissions to professional colleges is nothing new. It has been going on for years." A city-based advocate claims to have been approached by a tout as far back as in 1995 when she was taking MBA entrance exams. He offered to get her admitted to a management institute in Pune on the payment of Rs 70,000. "A few years ago the results from coaching centres in Bathinda were extremely good. Seeing this, many candidates made a beeline to Bathinda but came back soon after as they realised that something was 'wrong'," says the owner of a coaching institute.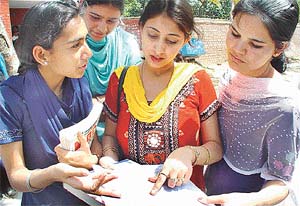 It is difficult to pin down anyone because no one wants to talk. "...but I do not want to name anyone," was a phrase one heard repeatedly from people running coaching centres who alleged that "other centres" were indulging in malpractices. "Cannot say" or "no comments" worded in different ways, was what greeted most queries. Sometimes, they say, silence speaks louder than words. And when one is talking of a conspiracy of silence — after all, everyone stands to lose by speaking up: coaching centres whose very existence could be threatened if the cover on the scam is blown (even the legitimate ones don't want to be guilty of blowing the whistle on one of their own), parents who are hoping that money might be able to secure that dream future for their children and students who don't want a single unguarded comment to jeopardise the entire future — then "no comments" is more eloquent than an FIR.
What is disturbing is not just the fact that meritorious students are cheated out of the seats that are rightfully theirs, but that the education mafia has a network that spans the entire country and reaches the highest levels. Consider the credentials of Bharati Vidyapeeth, in which a large number of students who reportedly pay for admission get seats. It has been founded by Dr Patangrao Kadam, Minister for Industries in the government of Maharashtra, who is also the Chancellor of Bharati Vidyapeeth Deemed University. Apart from this, Kadam is a member of the Maharashtra State Advisory Board of Education, the Steering Committee of the All India Teacher's Congress and Institute of Marketing Management, New Delhi, the president of Mahatma Gandhi Research Centre, Pune, vice-president of Sarvodaya Shikshan Sanstha, Fellow of Deccan Educational Society, and life member of Symbiosys. His earlier appointments are no less impressive. He has been a member of the Senate and Executive Council of the University of Pune for about 12 years and of the Executive Council and the Senate of the University of Bombay, Chancellor's nominee to the Senate of the Shivaji University, Kolhapur, and director of All India Council for Technical Education. One would certainly not expect a university founded by a minister, and that too one with such impeccable credentials, to be named in newspaper reports on people involved in underhand dealings or in ads promising "assured admissions". Or so one would like to believe.
Assertions by the CBSE that the system for ensuring the secrecy of the PMT entrance exam was "foolproof" fly in the face of revelations made by Pappu who confessed that the papers for the last two years had been leaked. He has also named the CBSE officials involved. In any case, one doesn't have to be a legal genius to figure out that papers cannot be leaked without the connivance of the people whose duty it is to safeguard them. Also, touts have a network that spreads across most of North India — in Punjab, Haryana, Himachal Pradesh, Uttar Pradesh, Delhi — and Bihar in the east. Further investigations might reveal their hold in other states as well.
It is a sad paradox: the coaching industry isn't organised, while the education mafia is frighteningly so. The racket is a four-tier operation. Right at the bottom of the ladder are middlemen who approach students enrolled in coaching centres, which are at the second rung, or place ads in papers and offer to get them admitted to professional courses for a hefty fee. These middlemen then contact people, mainly from Bihar, who are at the third rung and have contacts in the CBSE. These CBSE officials, who form the fourth and highest rung, pass on photocopies of the question papers to the middlemen a day before these are scheduled to reach the examination centres. Later the question papers are solved at hired hotel rooms for the benefit of the students who have paid the required amounts to the middlemen. Those touts who do not have the necessary contacts in the CBSE simply approach students directly or place ads in newspapers giving assurances of certain admission, and instruct students to sit for the test and tick only those answers that they know for sure are correct. They are told not to attempt any questions that they are doubtful of. The blank answers are later filled by persons hired by the advertiser at the examination centre. Sometimes the candidates are instructed not to answer any questions at all and only fill in their roll numbers. Another way is to get impostors to take the exam on behalf of the candidates.
The paid seats are mostly for colleges in Maharashtra or Karnataka. In those states there is nothing illegal about paying money to get into professional courses. What is illegal, though, is a matter of percentages. It functions something like this: most of the colleges have what is known as a management quota. That means that the people who are on the management boards of colleges can nominate their own candidates to, say, x per cent of seats. Getting candidates admitted to these seats is perfectly legal (how ethical it is, is of course another matter. After all, why should some candidates benefit from their proximity to certain people? And then it is easy to see how this leads to candidates trying to curry favours with these people. But let's not get into that for the moment). The illegal part starts when the number of people admitted to the management quota exceed the given quota, that is students are admitted to x+a per cent of the seats. "The management quota is misused by these touts in connivance with the college authorities, which also get a cut from the money the touts make," says the director of a coaching centre. "Sometimes the candidates get admission even before the entrance exam is held," he adds.
For as long as the promises made were delivered, everyone involved was happy to go along. The murky details finally came to light when those who had paid money found themselves with little other than empty promises. "The touts promise seats in well-known colleges and charge money accordingly. Later they tell the candidates that they couldn't manage seats in those colleges and offer to get them admitted to lesser-known institutions. Sometimes they do so, other times they simply say that admissions even those colleges weren't possible and the candidates are left high and dry," says a centre manager. It was one such case of unfulfilled promises that finally blew the whistle on the activities of Chandigarh-based Deepak Saini, who took Rs 1.5 lakh from one Gurkripal Kaur as a advance on the total amount of Rs 4.5 lakh to get her son admitted to a BDS course in Pune, a promise that Saini failed to keep. Of course, the so-called 'wronged' parties are not blameless either; paying money for admission is no less culpable than accepting money for the purpose.
And if you thought that only coaching institutes for PMT exams were engaged in murky dealings, think again. Centres involved in training students for entrance exams to management institutes are not spotless, either. "I won't name anyone but I personally know of the wrongdoings in an institute engaged in preparing students for MBA entrance exams. Every year the instructor would fill in application forms for admission to management institutes along with his students. He would manage to sit near his students in the examination hall where the test was being conducted. From then on it was a simple matter of 'helping' his candidates," reveals the director of a city-based coaching centre. He further talks of another institute in Jaipur where the instructor would manage to get his entire batch of students consecutive roll numbers, which ensured that all of them could sit in the same hall for the entrance exam, an arrangement that facilitated extending 'help' to them. Thankfully, the officials conducting CAT for admission to IIMs and other management institutes cottoned on to the goings-on and saw to it that the candidates from Jaipur were not allotted centres in the same place. Agreed such small-time, one-man-con-shows are not in the same league as the finely tuned rackets of Devinder Singh and the likes, but these do confirm that all is not fair and square at coaching institutes. "One did suspect that something was wrong when the candidates who made it through the exams were the ones who did not do particularly well at the centre while the ones who one thought were bright were nowhere near the top," feels a centre manager. "Sometimes students come to me and ask me if I can ensure admission. Tell me how is it possible to guarantee admission?" asks Mahesh Gupta, proprietor of Chandigarh City College, a coaching centre.
Dubious admissions by dubious means to dubious colleges, isn't it logical to assume that the education imparted in these colleges would also be dubious? And that the people who invest so much money to buy a seat to a professional course would use equally dubious means to recover it once they get into jobs or business? If there are scams in education, aren't scams in jobs a foregone conclusion? The repercussions of corrupt practices in colleges and institutions, where students make choices which impact not only their entire lives but also the society in which they live, are felt long after the news of such scams have made an exit from the headlines and from public memory. Can we, as a society, afford to pay such a price?