Sunday, May 4, 2003



Temple or gurdwara, caste is the bar
Jangveer Singh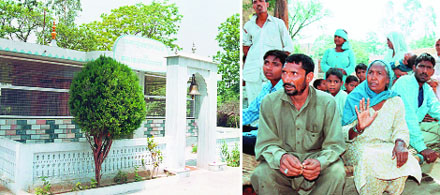 THE villages of Punjab may be known for their lassi, sarson da saag and even ghar di kadi hoyi sharab but behind this facade is also a well-known truth which is less publicised. Casteism, instead of losing ground in a liberal and modern society, is threatening to cast it's shadow over equations between Jats, the land-owning farmers, and the Dalits, who labour in their fields.
Politics of exclusion in Jalandhar
Varinder Singh
TALHAN village in Jalandhar district has been tense for the past three months, thanks to the petty politics being played by certain middle-rung politicians and the bid by some people to wrest control of the monthly offerings, to the tune of Rs 25 lakh, and that of the 12-member management committee of the Samadh Baba Nihal Singh Gurdwara situated there.
Happiness is an inside job
K. S. Chhatwal
MULLA Nasruddin, the old wise man of the village, was searching for something, outside his house. Bent on his knees, he was fiddling with sand and dust. A passerby stopped and asked, "What are you looking for, sir?" I am looking for the needle. I have lost it somewhere", replied Mulla.