TREE TALK
Taur: the giant climbing tree
K.L. Noatay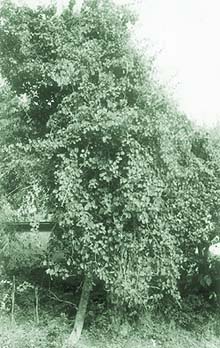 TAUR is an enormous evergreen broad-leaved plant. It is, in fact, a perennial woody climber that grows into a medium-sized tree, at times even up to a girth of 1 to 2 m at breast height. The vernacular word "taur" s pronounced like the common Punjabi feminine surname, "Kaur". The scientific name being Bauhinia vahlii, its family is Leguminocae-Caesalpineae. It has many regional names like tauria, malu, maul, maljhan, jallaur, sihar, borla, chehur, paur vela, lamma, rung, etc. The plant has certain man-friendly qualities as well as disadvantages. It is, therefore, important to know the species in detail.
Phenology
Taur being a climber its shoots have a recoiling terminal tendril, nature's adaptation to help the plant climb on to other plants. The shape of leaves is somewhat like the footprint of a camel and they measure 40-45 cm across. Old leaves, if not already removed by the rights-holding villagers for various uses, are shed gradually during autumn. New buds sprout in spring.
Its white flowers are terminal corymbose. These can be corymbose recemes also. The stalk is 3 to 6 cm long and slender with a lanceolate caducous bracket at the base.
Taur fruit is a flat pod. These start developing during October-November and ripen by January-February. When mature, pods measure 25-30 cm x 6-8 cm and nearly 8-12 mm thick.
Distribution
Taur occurs naturally in tropical and sub-tropical zones. In Asia it grows from Burma to Afghanistan. Along the longitudes, it comes up naturally from Sri Lanka to outer Himalayas — between sea coast to hill ranges up to 1000 m, registering its presence fairly well in the Eastern and Western Ghats, the Deccan Plateau, Shivaliks, etc.
Climate
The tree is capable of coming up and subsisting in a variety of climates and soils. However, areas experiencing temperatures from 20º to 40ºC and rainfall from 100 to 200 mm per annum suite the best. Well-drained ground with sandy loam formation and plenty of sunlight are ideal.
General uses
The main importance of taur is because of its leaves. These are prized for a number of applications. Stitched together, these make excellent pattals. Vaishnavite Hindus consider these pious and use them on religious occasions. Village artisans also make rain caps, umbrellas, large containers for shakkar (raw sugar), canopy for machans, etc. Of course, the leaves are used as fodder – especially during dry periods. The foliage serves as good mulch for protecting young seedlings from the sun.
Tender fruit pods are roasted for a dessert. The seeds from mature pods are eaten raw as well as after roasting. The bark has good fibre of which ropes are made. Though the stem is pretty woody and hard, yet it is useful only as firewood.
The large plain leaves and spreading nature of taur make it an excellent cover for conservation of soil on slopes affected by frequent landslides.
Practitioners of oriental medication prescribe application of wet paste of the powder of dried bark of taur roots for healing burn injuries. The paste saves the sufferer from scars.
Nuisance factor
The main disadvantage in taur tree is that this climber plant covers and suppresses and kills the host species. Moreover, it has a menacing rate of growth. Under favourable conditions, it puts out nearly 10-15 m shoots in one growing season. Once atop a host tree, it soon grows over others around. It also makes the forest floor below too dry and inaccessible to let seeds of valuable tree species germinate. Because of this, forestry specialists of the nineteenth century used to exterminate it wherever possible.
Regeneration
Taur profusely regenerates on its own. Any special effort to regenerate it artificially is, therefore, hardly called for. Nevertheless, in view of the biodegradable packing material made out of its leaves, it is desirable to have taur in vacant patches and wastelands. Promoters of the species can collect taur seed from mature pods during January-February. The seed, collected by beating the pods, is preserved till May. During the first week of June it is soaked in warm water for 24 hours and then sown in nursery beds or forest patches readied for the purpose. The following monsoons can give a good start to the seedlings.