Monday, May 5, 2003
Web Jingle
The first Maan to hit the Punjabi pop circle
Amit Puri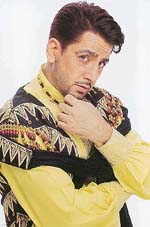 Gurdas Maan
Date of birth: January 4, 1957.
Place of birth: Giddarbaha, Faridkot district.
Hit songs: Mamla Gadbad Hai, Chakkar, Vah Ni Jawaniya, Ki Banu Duniya Da, Dil Hona Chahida Jawaan
Gurdas Maan had his early education in Malout. Right since his childhood, he was more interested in music rather than education. Later, his parents, S. Gurdev Singh and Tej Kaur, shifted him to Patiala for further studies where he joined National Sports Institute for doing his masters in physical education. There he bagged medals in various athletic events and earned a black belt in Judo. He displayed his singing talent at youth festivals and got recognition and awards for his singing and acting.
After completion of his masters, he continued his work on stage shows, writing shows, lyrics and singing. He got his first chance when a TV producer from Jalandhar TV station approached him. Gurdas Maan, in association with him, released the song, Dil da mamla hai, on December 31, 1980. It became a super hit catapulting Gurdas Maan to stardom.
In 1983, he released his first album in association with HMV. After that there was no looking back for this singer. He was the first Punjabi singer who broke the barrier of language and become popular in all states of the country. He got the credit of taking Punjabi music from a regional level to national and then on to the international level.
He has worked with many big names like Khaiyyam, Nadeem Shravan, Laxmikant Pyarelal, Charanjeet Ahuja, Jasvant Bhanvra and many more. He has sung songs in other languages like Hindi, Bengali, Tamil, Haryanavi and Rajasthani as well.
His experience of stage helped him in movies. He has worked in movies like, Mamla Gadbad Hai, Long Da Lashkara, Ki Banu Duniya Da, Chora Harysana Da, Qurbani Jatt Di, Ucha Dar Babbe Nanak Da, Pratigya, Kachehri, Dushmani Di Agg, Baghaavat, Gabroo Punjab Da. Recently he got role in movies like Shaheed-e-Mohabbat and Zindagi khoobsoorat hai.
His song, Dil hona chahida jawan, Umaranch ki rakhiya, is an apt comment on his persona. He is more than 45 and still popular for his power-packed stage performances. He is always booked for the festivals and shows. From the last two decades, Gurdas Maan, has done more than 25 albums and written over 200 songs. His recently launched album, Punjeeri, (music by Jaidev Kumar and lyrics by Maan), exhibits his talent beyond compare.
This site is the official site of Gurdas Maan. It is a well-built simple site. The main sections of the site are Lights, Sound, Camera and Action. The Lights section throws light on his life and his struggle. The Sound section tells about his music life, with whom he worked, his hit songs and the list of albums etc. Camera section is about his acting talent and about the movies he worked for. The other sections of the site are Discussion board, Ask the Ustad (answers will be given by Gurdas Maan) and Portfolio.
www.musicindiaonline.com/music/l/03090011
Dil Hona Chahida Jawaan, Jaadugarian and Yaar Mera Pyar are the three albums whose links are available on this page. These links further open pages where we can find the complete songs of the albums. We can listen songs online by selecting the check box of the song. This is a well-maintained site and almost all links are working. Jaadugarian, Kattan Waliyaan, Zara Hatt Ke, Chunni Meri, Dil Hona Chahida, Zahar Vi Deve are some of his best songs available on this site.