M A I N N E W S
Togadia slams PM on Pak
Tribune News Service
New Delhi, May 4
Vishwa Hindu Parishad (VHP) leader Praveen Togadia was at it again today as he went after Prime Minister Atal Behari Vajpayee for his policy on Pakistan and his views on Hindutva calling him "spineless" who cannot defend the country from jehadis.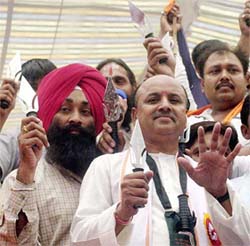 Praveen Togadia of the VHP with party workers during a "trishul diksha" rally in New Delhi on Sunday. — PTI photo

The firebrand VHP leader also lashed out at Congress President Sonia Gandhi ridiculing her as his "marketing guru".
Participating in a 'trishul diksha' programme here a day after the three-day Sangh Parivar meeting, Mr Togadia tore to pieces the understanding arrived at the meeting not to criticise individuals.
At the meeting, Sangh outfits had agreed not to criticise individuals or organisations within the Sangh Parivar.
Lashing out at Mr Vajpayee for India's policy towards Pakistan, Mr Togadia said, "You have scored a century in issuing warnings like Sachin Tendulkar, jehadi terrorism will not end by issuing warnings. It will continue till Pakistan is dismembered and India reunified."
"Instead of our suffering from Kashmir to Kanyakumari Pakistan should suffer from Karachi to Kandahar," he said.
He urged Mr Vajpayee to punish Pakistan instead of forgiving it. "We don't want Lahore bus, Samjhauta Express or Agra talks. We want our military tanks in Lahore, missiles in Rawalpindi and the saffron flag in Karachi."
In an apparent reference to Mr Vajpayee's Goa musings, he said "We are being told about Swami Vivekanand's Hindutva. Do I have to learn Hindutva from spineless people who can't defend the country from jehadi terrorists. We will use all means for achieving our final goal of establishing a Hindu rashtra."
"We are not bonded labourers of any political party. The trishul dikhsa is not aimed at making the BJP win or the Congress lose," Mr Togadia told hundreds of Bajrang Dal activists in Lakshmi Nagar area of East Delhi.
Charging Mrs Gandhi with not loving India, he said, "Had it been so, she would not have banned tridents which are symbols of Lord Shiva and Goddess Durga".
He said Mrs Gandhi played the role of his marketing guru by getting him "arrested" and giving him countrywide publicity.
Equating ban on trident programmes by Congress governments with the ban on singing Vande Matram by the British, Mr Togadia said the Congress which had allowed 'shilanyas' and respected Hindu sentiments had now turned into another Muslim League.
He warned that if the Congress continued with its policies, "it will not remain in power in Jaipur and Bhopal."
Lauding Congress leader Vasant Sathe's reported advocacy of Hindutva, Mr Togadia said: "Someone like him should head the Congress. We will bow before such Congress leaders who respect Hindu sentiments."
Later, Mr Togadia along with VHP leaders B.L. Sharma and mahant Naval Kishore Das distributed tridents among 5,000 Bajrang Dal activists at the programme which has come under severe criticism from Delhi Chief Minister Sheila Dikshit and other Congress leaders.