SCHOOL WORLD
About Australia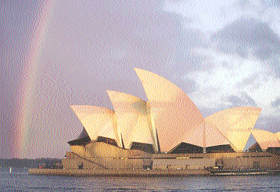 The Opera House in Sydney, is Australia's most popular landmark.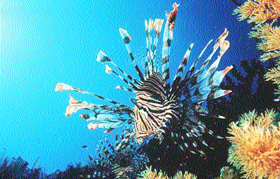 The Great Barrier Reef is the worlds most extensive reef system, having a collection or around 7,500 species of corals, fish and mollusca. It is a popular tourist attraction.
LOCATED in South - West Pacific Ocean, Australia is an island country. To its west lies the Indian Ocean and the island of Tasmania. Indonesia, East Timor and Papua New Guinea lie to Australia's north, separated by the Timor and Arafura seas. To its east lies the Great Barrier Reef and the Tasman Sea.
The neighbouring country of New Zealand is located about 1,800 kms to Australia's south-east across the Tasman Sea.
Covering an area of 7,686,850 square kilometres, the Great Dividing Range lies along the island country's east coast, where Australia's highest point, Mount Kosciusko, rises 7,316 feet above sea level.
The Western area is a plateau, with an altitude of 2,000 feet. In between lie the Great Sandy and Great Victoria deserts. The north western parts of the country are arid and dry, while the eastern parts get heavy rainfall.
The country harbours many plant and animal species not found elsewhere, including Kangaroos, Koalas, Platypuses, dingos (wild dogs), Tasmanian Devils, wombats and barking and frilled lizards.
Australia's principal rivers are Murray, Darling, Iachlan, Flinders, Diamentina, Ashburton and Fitzroy. Natural resources include bauxite, coal, copper, iron, lead, tin, uranium, zinc and crude oil. About 6 per cent of the total land is arable.
Agricultural products include live stock, forest products, grains, sugar beet, potatoes, grapes and wine. Its agricultural success makes it the leading exporter of beef, lamb, wool and wheat.
On the industrial front, mining, iron and steel, chemicals, machinery, paper and pulp, food processing and fisheries top the list.
Australia's major trading partners include Germany, Japan, United States, European Free Trade Association countries as well as eastern European nations.
It exports iron and steel products, timber, paper, textiles, electro-technical machines, chemical products and processed food, while it imports machinery, vehicles, chemicals, raw materials, metal goods, fuel and food stuffs.
Australia's gross national income is in the vicinity of 400 billion dollars, with an annual growth rate of around 3 per cent.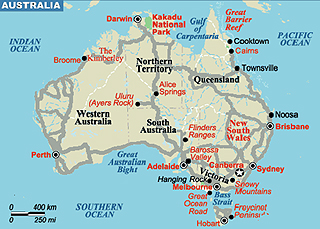 Geography: Fact File
Official Name : Commonwealth of Australia
Capital: Canberra
Population: 19.4 million
Currency: Australian Dollar
Type of Government: Democratic, federal state
Language: English
Major cities: Sydney, Melbourne, Perth, Brisbane, Darwin, Hobart, New Castle, Wollongong, Gold Coast, Adelaide, Cairns, Launceston
Continent: Australia
Websites: www.austemb.orgwww.abs.gov.au