MUSIC ZONE
This exponent of Khayal is cast in his guru's mould
Nalini Ranjan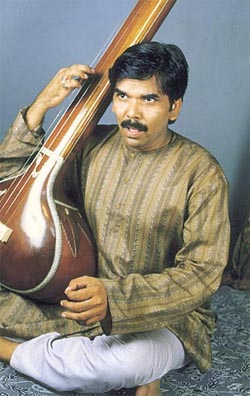 It was during the late 70s. At that time he was studying in class VII at his native village, Dewaria, in Uttar Pradesh. The school had organised a talent hunt contest in singing for the students. He sung a famous poem of Hindi poet Sri Jayshankar Prasad. And he was adjudged the best participant. The music loving principal of that school was so impressed with the outstanding performance of this student that he immediately summoned his father, Mr Lal Kamal Tiwari, to the school and advised him to let his son pursue his career in the field of singing. For the teenager, Harish Tiwari, it was what he had dreamt of since early childhood. Since then, he has never looked back. Now he is deemed as one of the most promising exponents of Khayal singing in the tradition of living legend Pt Bhimsen Joshi. After completing his 10+2, he did senior diploma and bachelor of music from Banaras Hindu University. After that, he procured the Sangeet Alankar degree from ABGMM, Mumbai. Thereafter, he did masters and MPhil in music from Delhi University. Right now he is also enrolled for his PhD at the same university. Besides these academic accomplishments, he learned many finer points of this art under the guidance of veterans like Pt Thakur Choubey, Pt Ajeet Bhattacharya, Pt Acharya Nandjee and Dr Vijay Laxmi. He mastered the art of Khayal style of singing under the tutelege of Pt Bhimsen Joshi. He practised singing for more than four years under the guidance of this legendary Khayal singer of Kirana Gharana. He says the main parts of Khayal style of singing are Meru Khand and Sumer Khand. Rohtak-based Pt. Kundan Lal Sharma had introduced this style of Khayal singing.
"He would always say that it would be easy to master other styles of singing if at first you master one style of singing. I religiously followed his advice. Like other artistes of Khayal singing, I never tried to experiment in Dhrupad and Dhamal style of singing," Harish Tiwari says. The gifted singer used to practise up to 16 hours a day in the initial phase of his career. Now his period of 'riyaz' has reduced to seven to eight hours daily because of his busy schedule.
He has participated in many important live musical programmes like the 9th Yuva Mahotasava organised by Sahitaya Kala Parishad in 1994, the 124th Harballabh Sangeet Sammelan organised at Jalandhar in 1999, Hazarat Amir Khusro Smriti music concert organised by Sangeet Kala Manch at Jalandhar in 1999, The Divine Life Society musical concert at Tehri Garhwal in 2000, Basantotsava Sangeet Samoroh at Varanasi in 2001 with tabla maestro Pt Chote Lal Mishra. He is a grade-A artiste for radio and television. He used to give regular programmes on both the mediums. Recently, he was awarded the prestigious Surmani award by the Sur Sagar Sansad Society, Mumbai. He is also a recipient of the Uttar Pradesh Sangeet Natak Academy Award (1986), and Sahitya Kala Parishad, Delhi, Award (1994). He was given the first prize for outstanding cultural activities by the Faculty of Fine Art and Music, University of Delhi in 1998, the first prize in the annual music competition at the 123th Baba Harballabh Sangeet Mahasabha at Jalandhar in 1998, and the first prize in a music competition, 'Suron Ke Silsile,'organised by Metro channel of Doordarshan.