THE TRIBUNE MAGAZINES
On alternate Mondays

On Sundays
On Saturdays
IN PASSING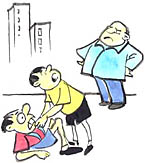 Why should we stop fighting? Do you think you are Richard Armitage?
by Sandeep Joshi
Reaffirm stand on Kashmir: RSS
New Delhi, May 9
Noting that the statement of Prime Minister Atal Bihari Vajpayee in Parliament yesterday regarding the initiatives on the Indo-Pakistan front had helped in dispelling some "suspicions" and "fears", the RSS today asserted that New Delhi needed to give up signs of war-weariness and reaffirm its position, taken unanimously in Parliament in 1994 on Kashmir.

Stop support to militants, Advani tells Pak


New Delhi, May 9
Deputy Prime Minister L.K. Advani said today Indo-Pakistan ties could improve, but maintained that Islamabad must stop patronising cross-border terrorism.

In video (28k, 56k)
PARLIAMENT ATTACK CASE
Intercepted phone talk admissible
evidence: SC
New Delhi, May 9
The Supreme Court today set aside a Delhi High Court order holding that the intercepted telephonic conversations among Parliament attack accused were not "admissible" evidence under POTA.
Brar loses whip
New Delhi, May 9
Taking a serious view of two Congress MPs, Mr Jagmeet Singh Brar and Mr Laxman Singh, asking questions from Defence Minister George Fernandes despite his continuing boycott by the party in the Lok Sabha, the Congress has served show-cause notices to the MPs and relieved Mr Brar of his position as a whip of the party.
FATEHABAD BYELECTION
Candidates clean, claim affidavits
Fatehabad, May 9
None of the four main contenders — Mr Dura Ram (Congress), Mrs Swatantara Chowdhary (Indian National Lok Dal), Mr Prahlad Singh Gillankhera (Haryana Vikas Party) and Mr Krishan Swaroop — in the Fatehabad Assembly byelection has any criminal case pending against him or her in which the offence is punishable for two years or more.
Vajpayee rules out denuclearisation
May 9, 2003

Menon's name as envoy sent
May 8, 2003

Brajesh meets Armitage on way to USA
May 7, 2003

Jamali confers with parties
May 6, 2003

PM names LCA as 'Tejas'
May 5, 2003

Pak PM Jamali invites Vajpayee
May 4, 2003

India renews peace initiative
May 3, 2003

RSS cautions govt on talks with Pak
May 2, 2003

FM rules out VAT from June 1
May 1, 2003

PM raises terrorism issue with Jamali
April 30, 2003