For the more adventurous, however, there is a plethora of little known spots, many of them distant, where time stands still and summer might as well not exist. And the mighty Himalayas are not the only place where you'll find these spots. Some of these are hidden in the unlikeliest of corners of states as far south as Tamil Nadu, Andhra Pradesh and even Kerala.
So if you're looking for the right place to be this summer, away from the heat and grime of the cities, you might like to choose from one of these.
Jageshwar, Uttranchal
The temple town of Jageshwar Dham, boasting more than 200 big and small temples, situated at a height of about 1900 m above sea level, is just about 36 km from Almora in the Kumaon belt of Uttaranchal. Built in the 4th-5th centuries AD, most of these temples are dedicated to Lord Shiva. Actually, the idol at Jageshwar is considered to be one of the twelve jyotirlingas (the most sacred shrines of Lord Shiva) in India, and thousands of Shiva devotees come here to offer prayers during Shivaratri. The fragrance of deodar trees and sandalwood plantations give the place a touch of the ethreal.
Almora itself is just 67 km by road from the popular resort of Nainital, and has a tranquillity rarely found in mountain resorts. Another unique aspect of Almora is the fact that it is one of the few hill stations not set up by the British. It is said to have been established as a town in the 1500s. There's a sense of history about the whole place that is not generally felt in other mountain towns.
How to reach: The railway station nearest to Jageshwar is at Kathgodam, which is 135 km away. Jageshwar is located on the Nainital-Pithoragarh road and those coming to Jageshwar generally come via Nainital, which is 100 km southwest of Jageshwar, or from Almora, which is 36 km south of Jageshwar. The bus service from both Nainital and Almora to Jageshwar is good.
Taxis also ply to Jageshwar. Almora is well connected with Delhi, too.
Patnitop, Jammu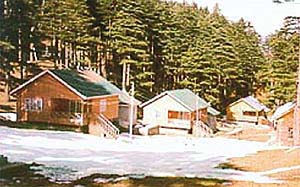 The scenic Patnitop is a fine alternative to Kashmir

When terrorist violence kept Kashmir Valley out of bounds for tourists, the state government discovered Patnitop and decided to develop it as a tourist destination. Dubbed as an alternative to Kashmir, this hill resort is just 112 km from Jammu and is a favourite with pilgrims visiting the Vaishno Devi shrine. Located at an altitude of 2025 m on a beautiful plateau on the Jammu-Kashmir highway, it is a thickly forested area offering peaceful walks and beautiful views of the Chenab basin. Besides the JKTDC huts and bungalows, there is a slew of private hotels providing affordable accommodation.
How to reach: The nearest air link and railhead is Jammu, from where there are regular buses also.
Ladakh
The rough terrain of Ladakh was never a hindrance to the adventurous traveller. Increasingly, however, the Ladakh and Leh regions of Kashmir are proving to be a major attraction for the leisure traveller too. Located at altitudes ranging from about 9,000 ft (2,750 m) at Kargil to 25,170 ft (7,672m) at Saser Kangri, in the Karakoram Range, Ladakh is a beautiful place to spend the summer. The temperature here rarely exceeds 27 degrees centigrade in the shade. What is probably the most attractive feature of this part of the Himalayan range is its awesome environment. Bounded by two of the world's mightiest mountain ranges, the Karakoram in the north and the Great Himalaya in the south, it is traversed by two other parallel ranges, the Ladakh Range and the Zanskar Range.
How to reach: The main overland approach to Ladakh is from the Kashmir valley via the 434-km-long Srinagar-Leh road which remains open for traffic from early June to November. The J&K State Road Transport Corporation (J&K SRTC) has regular deluxe and ordinary bus services between Srinagar and Leh on this route with an overnight halt at Kargil. Taxis, (cars and jeeps), are also available at Srinagar for the journey. Groups can charter deluxe and A-class buses for Leh, Kargil or Padum (Zanskar) from the J&K SRTC at Srinagar.
Horsley Hills, Andhra Pradesh
A fascinating name, but one that not many people would have heard of. And fewer still would know where it is located. It is in the southern part of Andhra Pradesh. One of the state's few hill stations, it is in fact the only hill resort established during the Raj. W. D. Horsley, once the collector of Cuddapah district, set up his summer home in the Tirumalai hills to escape the scorching Andhra heat. The town, at an altitude of 1,265 m, subsequently came to be named after him. The wooded slopes have a variety of guest houses to suit virtually every pocket.
How to reach: Horsley Hills is accessible from Bangalore which is 165 km away. Hyderabad is about 500 km away. Indian Airlines and Jet Airways fly into Bangalore daily from Mumbai, Kolkata, Chennai and New Delhi. The nearest large railhead is Chittoor or Bangalore, and Madanapalle is only an hour away by road.
Ooty, Tamil Nadu
One of the few hill resorts in South India that is almost as popular as the hill towns of Himachal Pradesh, Uttar Pradesh and Jammu and Kashmir. A pleasant summer retreat located 100 km from Coimbatore, Ooty was established as the summer headquarters of the state of Madras during the early 19th century by the British. It is a peaceful place that doesn't lack in places to keep the tourist occupied. Its Botanical Gardens exhibit rare varieties of exotic and ornamental plants and is the venue of the Flower Show held in May every year. A 20-million-year-old fossil tree trunk in the garden is just one of the attractions of this garden. For those with an adventurous spirit, Ooty provides fine options for trekking, hang-gliding and angling.
How to reach: The nearest airport is at Coimbatore (100 kms) which is connected to Chennai, Mumbai and Bangalore.
Udhagamandalam on narrow gauge railway is connected to Mettupalayam which is directly connected to Coimbatore and Chennai on broad gauge. And there is a regular bus service to Coimbatore, Trichy, Bangalore, Madurai, Kanyakumari, Mysore, Palghat, Calicut and Tirupathi.
Yercaud, Tamil Nadu
For those who decide South India is where they want to be this summer, Tamil Nadu has its own share of some cool places, apart from the immensely popular Ooty and Kodaikanal. The British established Yercaud in the 1820s. This tiny town of red-roofed, whitewashed cottages, lies 33 km from Salem and nestles in cool coffee plantations, orange groves and thick forests, complete with a lake. For the religious-minded, there are the Shevaroyan temple and the Holy Trinity Church, that together make a trip to this seemingly timeless place an ageless pleasure.
How to reach: One can travel to Yercaud by road via Salem from Coimbatore, about 165 km away. The closest airport is at Coimbatore. There are flights to Coimbatore from Mumbai and Chennai. The nearest railhead is Salem, 33 km away, and there are several trains coming into Salem from Coimbatore, Erode and Chennai.
Gokarn, Karnataka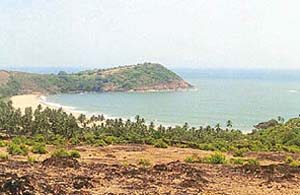 The shimmering beaches of Gokarn are hard to resist

Considering that Karnataka isn't too far from Tamil Nadu, it makes sense to visit the latter too if one is travelling south. And in Tamil Nadu, Gokarn is one place you can't afford to miss. Located on the Karnataka coast, it has a multitude of sparkling beaches shimmering against the lush blue-green of the mountains in the background. Temples dotting the landscape make the journey even more attractive, especially the famous Shri Mahabaleshwar temple. And what is really exciting is the prospect of driving to Goa, from whose border this is just a two-hour drive. Gokarn is flooded with pilgrims during Shivratri, but even during other seasons this quaint town of red-roofed houses and narrow streets is a pleasant place to stop by.
How to reach: Gokarn is five hours away from Panjim (Goa) and seven hours from Mangalore. There is a daily bus service between Panjim and Gokarn. The nearest large railhead is Margaon. Several trains pull into Margaon daily from Kerala, Mangalore, Mumbai and the North. There are also a large number of flights coming into Goa from Delhi and Mumbai, and some also from Bangalore and Chennai.
Panchgani, Maharashtra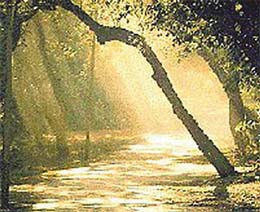 The pristine Panchgani
Another of those quiet, dreamy hill stations that have remained untouched by the ravages of time, Panchgani is located in the Western Ghats of Maharashtra, on Parasni ghat, just 20-odd kilometres from Mahabaleshwar. An ideal place for nature walks, Panchgani, which means five hills, was established in the 1850s by John Chesson. And the drive between Mahabaleshwar and Panchgani is exotic, to say the least. It is a lovely place to spend the summer, so long as the holiday doesn't extend into the monsoon season, when such fierce downpours deluge the town that life virtually comes to a standstill.
How to reach: The closest railhead and airport is at Pune, 98 kms away. Mumbai, via Mahad, is 266 km away. A regular bus service, including MTDC luxury coaches, connects Panchgani with Mahabaleshwar, Pune and Mumbai. And there are domestic flights into Pune daily from Mumbai and Delhi.
Ponmudi, Kerala
A hill station with a view of the ocean, is how one writer has described this resort, just half a day's drive from Kovalam. One has to see it to believe that such places also exist in the country. It is a tiny outpost located among tea plantations somewhere in the heart of misty mountaintops. The best (some might call it the worst) part is the journey till this place — it's a precipitous climb that runs through lush, humid clove, rubber and cashew plantations, bamboo and teak forests, and rivers.
How to reach: Ponmudi is 65 km from Trivandrum and is easily accessible by road. Several trains pull into Trivandrum every day from Mumbai, Chennai and northern India. Trivandrum is also linked by air with Mumbai and Chennai.