M A I N N E W S
Two judicial officers held
Rajmeet Singh
Tribune News Service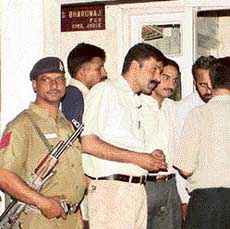 CBI sleuths outside the Sector 22 residence of Judicial Magistrate (First Class), Mr S.S. Bhardwaj, who was caught accepting a bribe of Rs 7 lakh on behalf of the District and Sessions Judge, Jalandhar, Mr R.M. Gupta, at Chandigarh on Saturday.
— Tribune photo Parvesh Chauhan
Chandigarh, May 10
The Central Bureau of Investigation (CBI) today arrested a local Judicial Magistrate (First Class), Mr S.S. Bhardwaj, for accepting a bribe of Rs 7 lakh on behalf of the District and Sessions Judge, Jalandhar, Mr R.M. Gupta, from a litigant here.
Mr Gupta had demanded a sum of Rs 11 lakh for favouring the litigant. The rest of the amount was to be paid later. Sleuths of the CBI went to the Sector 22 residence of Mr Bhardwaj at 6 p.m. when the judicial officer was accepting the cash packed in two sweet boxes. The family members of the judicial officer were also at home. The entire operation was being monitored by the SP, CBI, Mr S.S. Bhatti. According to sources, both judicial officers had been taken into custody.
While one CBI team raided Mr Bhardwaj's residence, the other searched at the Sector 8 residence (No 1254) of Mr Gupta. At 11 pm, the CBI team had seized some documents from the Sessions Judge's residence. The sources said some property documents, jewellery and some documents relating to the case had been seized.
According to reports from Jalandhar, a CBI team also swooped on the residence of Mr Gupta there. The CBI also conducted simultaneous raids on the residences of some relatives of the two judicial officers.
The sources said cases under the Prevention of Corruption Act had been registered by the CBI against the two officers.