Sunday, May 11, 2003
Lead Article
Stage artiste with a perfect entry who made a premature exit
An exhibition of photographs of Manohar Singh in myriad roles on stage is a fine tribute to the memory of a great theatre artiste of our times, writes Nirupama Dutt.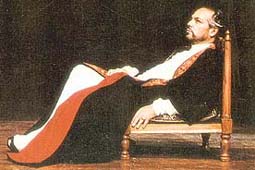 Manohar Singh in Tughlaq. Photo by E. Alkazi
"ACTING is all about entry and exit. The timing has to be right. This would also be true of life. The entry and exit should be at the right time," Manohar Singh joked once when he thought he was almost late for an appointment. This and many other little anecdotes come to my mind as I walk in the quiet lunch hour through Ebraham Alkaziís Art Heritage gallery, watching frame after frame. Here sits Manohar Singh in the tragic glory of Tughlaq and there he is the handsome young man in Dantonís Death; there the mad King Lear and here the alluring Begum Barve.
Many were the roles he played on stage and in life and played them with a rare flourish, with the timing of the entry and exit perfect each time. "But once, the timing was not correct. It was no time for him to go," his friend Nisar Allana said with tears in his eyes, "Manohar was at the pinnacle of his creative abilities." A great actor, a kind person and a good friend is how I recall Manohar Singh.
The year was 1975, many recall this as the year of the Emergency. So it was. But for a few of us it was also the year of the journalism school in Panjab University, Chandigarh. Also the year when our teacher Tara Chand Gupta initiated us into theatre as ushers. So we saw that year Habib Tanvirís Agra Bazar. M.K. Rainaís Ghosts, Kumar Varmaís Baqi Itihas and Balwant Gargiís Antigone. The last play had the legendary actor (yes, he was a legend even then) Manohar Singh playing the enraged king in the famed Greek tragedy.
Raw still and not quite discerning then, we were yet drawn into the power of the acting because Manoharís was a stage presence that compelled not just attention but admiration too. And a classmate of mine, Darshan Jack, wangled a joint assignment for the two of us from Amarjit Chandan, who then edited a cultural magazine in Punjabi. So there the two of us were sitting on the lawns behind the English Department and interviewing him over a glass of tea from Gulatiís canteen.
This was my first glimpse of the actor who passed away in November last year. A recipient of the Sangeet Natak Akademi Award for acting in 1983, Manohar was a Shimla boy who started acting in amateur theatre in his early youth and then joined the Himachal Pradesh Song and Drama Division and performed all over the state for six years. In 1968, he joined the National School of Drama, New Delhi, and in a couple of years he had arrived as an actor, forming a famous trio along with actresses Surekha Sikri and Uttara Baokar. He headed the National School of Drama Repertory Company for many years. Although based in Delhi and later both in Mumbai and Delhi, Manohar visited Shimla frequently to meet his family and often he would be staying for days in the home of his friends Kamal and Paramjit Tewari. Many a mehfil of music would be held there with Kamal singing in his magical voice and even Manohar getting inspired to hum a Himachali folk tune or two.
What was it that made Manohar excel in a wide variety of roles and remain unparalleled? In Alkaziís words, "Manohar had the aristocracy of spirit, nobility of soul and complete humility in understanding and enacting a role." He had a powerful stage presence, a marvellous voice and the genius to live out a role. In fact as Jimmy Porter in Look Back in Anger, he would work himself to such a rage that offstage it would take him time to come back to his normal self. I remember Manohar Singh telling me once in the course of an interview, "Theatre is a profession that burns one up somehow. In a course of two or three hours one lives through the highs and lows which one may experience in a lifetime." But theatre was his first and true love. He moved to television and films in the late eighties for financial reasons, to provide a home to his family and to settle his children but whenever he got a chance he was back to his friends Amal and Nisar Allana, doing King Lear, Himmat Mai or Begum Barve.
In Himmat Mai, an adaptation of Bertolt Brechtís Mother Courage and Begum Barve, Manohar played a woman in the first and a man impersonating a woman in the second. Not many could digest the idea of Manohar doing a woman. What had the mighty Tughlaq come to! Theatre critic Kavita Nagpal chose to put the blame on the Allanas, saying that they were exploiting their friendship with the actor and making a fool of him. Devendra Raj Ankur, present director of the National School of Drama, too nodded in disapproval. But discard prejudice and see how well Manohar handled these two roles. In the first, he modelled the character after his own mother and dressed in pahari clothes. Set in the days of war, Himmat Mai tells the sad story of a woman who fends for her three children by making money from the war and also losing all she has in the process. I still recall the moment when Manohar as Himmat Mai suppresses a scream on seeing her sonís corpse for, if she identified it the rest of the family too would meet the same fate. It was a moment of great acting and that scream still lives somewhere in the soul of the viewer. In Begum Barve, he is an ageing actor longing to play a feminine role, the play being set in the days of Bal Gandharva and female impersonator. What Manohar created in the urge to be a complete woman was truly a spiritual experience. Amal recalls, "A single ankle bell, again a sign of feminine vanity, looked awkward and misplaced around the large, hairy male foot. The tinkling sound that emerged as he tripped around with mincing steps, echoed the falsetto note adopted by Manohar for the role, emphasising the artifice of his impersonation."
In the last decade of his life, he was together with his family again, giving the attention to his wife that he had missed out on in his younger days. Manohar was a man of love and many a time he caused heartaches, his own and those of others, for love for him was a season that passed all too quickly. But he was a friend to them all even when the season of love was over. That was the goodness of his being. And he kept the responsibility of the family in mind. In the past few years, he searched me out twice to invite me to the weddings of his daughters Meena and Rachna. And he played the host with aplomb, along with his gracious wife Nirmal. Ironically, he passed away in a matter of days after his wifeís death. Both of them died of cancer.
I move from frame to frame a second time in the deserted gallery, seeing the photographs clicked by Alkazi, Shobha Deepak Singh and Gopi Gajwani (I recall that Yog Joy too had photographed him in a number of roles in the seventies). Manohar, or Manohar Singhji, as I always called him, for that was better than the universal Manohar bhai, had talked about entry and exit. He seemed to know it all. But had he ever imagined how lost the audience can feel when their beloved actor leaves the stage and that is what Amal and Nisar feel in Delhi, Kamal in Chandigarh, Deven Joshi in Shimla and yours truly on Badshapur Road in brand new Gurgaon. But then that is life. It is here this moment and the next it is gone. What matters is that how well you have played your role in it. The play is the thing!