MMS strikes roots in India
Peeyush Agnihotri
SURELY, technology mutates faster than a microbe. Barely has the euphoria of SMS died down that a new concept looms large on the tech-horizon. That of MMS. Short for multimedia message service, MMS has been in news of late. World Cup ads hovered around convincing cricket-crazy family's head into marrying off his daughter to a 'networked' lover.

GSM's ace against CDMA?
GSM operators are trying to promote MMS and other value-added services to match-up the non-voice value-added services offered by the CDMA players, primarily Reliance. Can these value-added services really help the GSM players in retaining their subscribers from churning out?

Institute that cares for poor
SITUATED in the Malwa belt of Punjab the Malout Institute of Management and Information Technology (MIMIT) is rendering yeomen service in social sector by giving vocational training to poor students free of cost. Situated on the Bathinda –Abohar highway, the institute has been established and promoted by the Government of Punjab for technical education and management training.

Cellphones poised to pip landline by 2006
S.C. Dhall
TELECOMMUNICATION has revolutionised the world and the way we live. We can now connect with persons, exchange information, store data from anywhere, anytime. The convenience telecommunication brings in is unprecedented. There has been a sea change in the way we communicate. Telephones, mobile phones, pagers, Internet, fax EPABX and many other related options are now available.

Animation outsourcing may be the next big thing
Sumeet Chatterjee
AFTER carving out a niche for itself in the global technology outsourcing market, India is fast going up the animation-outsourcing ladder by capitalising on its vast pool of low-cost skilled professionals. India is a recent entrant in the global animation scene but demand for its production services is growing at a fast pace.

IT WIT
by Sandeep Joshi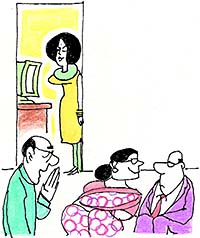 My daughter is CSCS— computer savvy cooking star.

Microsoft teams up with HP for Athens
MICROSOFT'S 12th annual Windows Hardware Engineering Conference (WinHEC) this week brought long-sought revelations like "Athens" prototype PC co-developed with Hewlett-Packard.


Shall I wear diamond cellphone tonight?
Baker Li
ASK the young and fashionable in Taiwan if they've heard of DBTEL Inc. and the answer will likely be no. But mention diamond-studded cellphones and eyes gleam and heads bob in recognition.


Net dodges Chinese censorship
Batuk Vora
IF there is one thing the Chinese enjoy the most in the midst of the media censorship, it is the Internet. The Internet is revolutionising the way Chinese communicate and interact. In some respects, the Internet users have crossed those boundaries of censorship.

A Netizens 'item'
Frederick Noronha
YES, chatting with friends has become a real breeze thanks to MSN, e-mail and what not. But guess what? It's just got even easier, with a new free software solution called "ayttm" worked out by a young Indian technologist in collaboration with his partners in France and elsewhere.

Despite Pak ban, Net voyeurism continues
INTERNET pornography has assumed alarming proportions across Pakistan, with the authorities struggling to control the scourge despite blocking access to over 1,800 Websites during the last three months. This is because some Internet service providers (ISPs) are able to bypass official channels to gain access to international bandwidth - as the country's telecom regular is not doing its job, The News reported.

Artificial intelligence still evolving
Sandeep Sood
ARTIFICIAL Intelligence or AI is that branch of computer science that deals with making computers behave like human beings, partially, if not fully. Johan McCarthy coined the term AI in 1965. More precisely it means using special software that enables the computers to find solutions to some complex problems in more human like fashion. Such software uses algorithms that work much like human intelligence.