Friday, May 23, 2003, Chandigarh, India


M A I N N E W S
Over 1,000 die as quake hits Algeria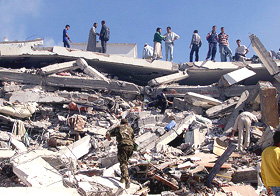 Rescue workers sift through the debris of a large apartment building in the Algerian town of Boumerdes on Thursday. — Reuters photo
Rouiba, Algeria, May 22
Rescue workers scrabbled at mounds of rubble today morning to find survivors of an earthquake in the Algerian capital and nearby towns that killed over 1,000 persons and injured nearly 6,000.
Measuring 6.7 on the open-ended Richter scale, the quake sent terrified residents running into the streets in Algiers and towns to the east, closer to the epicentre, along the populous Mediterranean coastal strip.
The tremor, felt as far away as Spain, was Algeria's worst in more than 20 years.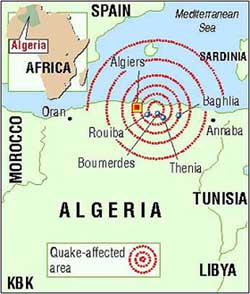 "Buildings have collapsed. Entire families are underneath," Prime Minister Ahmed Ouyahia said.
Hospitals in the capital and hardest-hit cities were finding it almost impossible to cope, medical staff said. In the hardest hit province, Boumerdes, bodies were piled up outside hospitals and patients were treated in the open air. The authorities urged doctors and paramedics to go to hospitals to help and citizens to donate blood.
The latest toll given by officials to state media was 1,000 dead and over 6000 injured. In the capital Algiers at least 57 buildings were destroyed, among them Algeria's Training Centre for the National Sporting Elite. Reuters