HOROSCOPE
THE TRIBUNE MAGAZINES
On alternate Mondays

On Sundays
On Saturdays
IN PASSING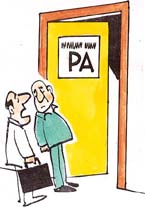 Does this mean payments accepted?
by Sandeep Joshi
Giani Iqbal Singh sticks to stand
Amritsar, May 23
The Jathedar of Takht Patna Sahib, Giani Iqbal Singh, has said that the hukamnama (edict), declaring Mr Mohinder Singh Romana, president of the management committee, as tankhaiya (guilty of religious misconduct) would not be withdrawn as he was competent to pronounce the same as per maryada (Sikh tradition).


Punjab page: Badungar's clarification on hukamnamas
Pak ex-envoy named as accused
New Delhi, May 23
The Delhi police has named former Pakistani Deputy High Commissioner to India Jaleel Abbas Gilani as an accused in the case of alleged funding of separatists in Jammu and Kashmir, but has put him in column number 2 of the charge sheet, indicating that he would not be sent for trial.
Bhajan's arrest stayed till May 28
Faces case of murderous attack
Fatehabad, May 23
The Additional District and Sessions Judge, Mr Darshan Singh, has stayed the arrest of former Chief Minister Bhajan Lal till May 28 in a case relating to criminal intimidation and murderous attack registered against him here last night.


Haryana page: FIR against Bhajan 'motivated'
HC judge's name included in FIR
Chandigarh, May 23
In a major development the CBI today added the name of a Punjab and High Court judge and the SSP, Jalandhar, after getting directions from the Union Home Ministry, in the corruption case involving the suspended Jalandhar District and Sessions Judge, R.M. Gupta and the UT Judicial Magistrate S.S. Bhardwaj.
Punjab gets clean chit in ADTOs' selection
New Delhi, May 23
Giving the Punjab Government a clean chit in the selection of Assistant District Transport Officer, (ADTOs), the Supreme Court has lambasted those who had challenged the selection process as it found them guilty of misrepresentation and concealing material facts before the court.


BACK BENCHERS — 1
Poor results in border belt
Schools without heads; teachers absent
Amritsar, May 23
Reports of large-scale mass copying notwithstanding, the poor result of plus-two in the district, especially in schools close to the zero line, has once again exposed the pitiable standard of education in the border belt. The result of Government Senior Secondary School, Tarsikka, has come as a rude shock to parents and the gram panchayat.
In Sports Tribune today
Minister's PA, IT officer held on graft charges
May 23, 2003

70 pc polling in Fatehabad
May 22, 2003

Ultras slit throats of 2
May 21, 2003

6 of family massacred
May 20, 2003

Reshuffle in offing: PM
May 19, 2003

Mayawati sacks Tripathi
May 18, 2003

Change views on terror, Advani asks Pak
May 17, 2003

Burning train claims 38 lives
May 16, 2003

US to put pressure on Pak
May 15, 2003

29 killed in Saudi bombings
May 14, 2003

Mufti for 'softening' of LoC
May 13, 2003