Shibori ... a technique: The characteristic look which makes shibori unique is the way the colour or the dye forms patterns, following the folds or crinkles in the fabric. The process involves both folding and stitching of the fabric. The fabric is folded lengthwise, widthwise, diagonally or any other way, and sewn across with loosely spaced darning stitch with a strong thread or cord. The thread, when pulled from the loose ends, forms gathers or crinkles in the fabric. When this crumpled form of the fabric is dipped into dyeing liquid, the folds resist the dye to penetrate into them.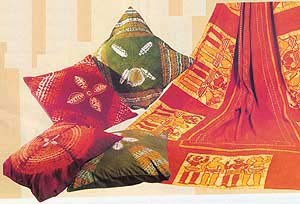 Bright cushion covers in shibori
After dyeing, when the fabric is almost dry, the loose stitches are ripped apart and fabric folds are straightened out. The small holes formed by the stitches give it the authentic hand-made feel. The irregular ways in which the dye enters through the fabric folds forms beautiful patterns. It is like discovering a new story every time`85.unfolding a new secret always!
Shibori ...a kaleidoscope: It has justifiably become typically Jaipur for its colour and liveliness. Fuschia, orange, yellow, pink, mauve, blue — all of them together are 'making waves' in both traditional and western ensembles like kurtis and T-shirts, sarees and wrap-skirts, men's shirts (even Charag Din is making tie n dye shirts) and men's kurtas.
Do it yourself
You could make your own ready-to-wear shibori.... So give a shibori touch to your white T-shirt or scarf or a saree pallav.
To start with, work on a smaller area.

It's all about giving some folds and new placements.

Hand stitch the folds along the parallel lines at a suitable distance (1-4 inches)

Pull the loose ends so that the fabric forms a good number of pleat-like gathers.

Tie both ends of thread/ cord (should be strong and thick) together.

Give it to the local dyer for dyeing

Reopen it when still a little wet.

Your shibori designer wear is ready.
Shibori ...a prismatic pattern: The flowing patterns will ease you into your own visualisations. You may see them as soothing sea blue waves, flashes of electric red lightning, sunny and warm yellow rays, multicoloured bright rainbow, heartbeat lines or as an intricate spider web formation. Shibori patterns look most feminine and mesmerising in sheer fabrics, especially georgettes and chiffons. The technique is most effective in lightweight fabrics like cotton and linen for the ease in handling and formation of maximum folds and gathers. Even fine knits (already seen in T-shirts) can be experimented more with shibori for different apparels like body-hugging short dresses. Shibori in beachwear like swimsuits, tie-up blouses and sarongs would easily match the Hawaiian joie de vivre.
It is a technique, which can be easily learnt and passed on. It also does not require much investment in terms of raw materials. A lot of innovation can be brought out with different kinds of folds and placements. Along with apparel, one can venture into home furnishings like curtains, cushions, lampshades, and other accessories for interiors to break the monotony of dull colour combinations. Shibori will surely add a sparkle to any corner. It can be made to look more gorgeous by combining it with other embellishment techniques like block printing and khadi printing, mukaish and gota patti work, kundan and thread embroidery, patchwork and mirror work. The colour bands, the gaps in between, can be filled with bel (creeper) borders, and geometric and floral designs in corners, or all over. These embroideries, extensively done in Jaipur, add to the beauty of the fabric.