Though slippery at places, this track is otherwise in a fine condition. Passing steep climbs, one has to cover a distance of 12 km from Bhullah to Shikari Peak. After walking for an hour, one may see fresh snow on the slopes and mountains.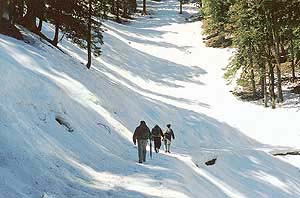 A snow-covered track on way to Shikari Peak
As one starts climbing up, the snow gets thicker and thicker, the maximum being five feet. Walking in snow can be tiring.
It takes about five hours in normal circumstances to reach Shikari, which has a famous temple of Shikari Devi. The place has rest houses and a trekkers' hut. The scenic view from Shikari Peak makes one forgets the arduous climb.
Shikari Peak, the highest in Mandi district, experiences high velocity icy winds. It is difficult to stay at the top for a long time during winter in the absence of facilities like drinking water.
The next phase of the journey is a descend from Shikari Peak to Devidadh. The melted snow makes the grass marshy and the slopes slippery. It takes about three hours to reach Devidadh, which is 8 km away.
Devidadh, situated at 7800 ft, has picturesque surroundings. It has a well-maintained rest house run by the Wildlife Department.
The rest house offers steaming hot and tasty meals cooked on firewood. One of course has to carry the rations since you hardly get anything at that place. The sprawling meadows, deodar trees and sound of gushing water from the nearby stream provides a picture-perfect setting.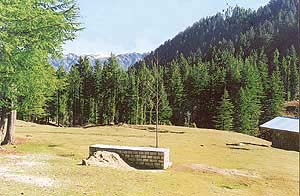 Bhullah is known for its lush meadows and tall deodars

The next day, one can begin the journey to Kamru Nag Peak, which is a famous religious place. The road begins with a steep ascent passing through dense forest and a stream.
Walking for an hour or so takes one to rows of fields sown with potatoes and peas. The apple orchards on the opposite hill offer a panoramic view. Nature has still not been disturbed here as there is little habitation. Wild shrubs and grass with wild flowers not only attract butterflies and bees but also passersby. A 12-km track from Devidadh to Kamru Nag passes through several hills and peaks like Kharijan, Kathabai, Fassydhar, Kanzeedu Galu and Thanda Pani.
After crossing Fassydhar, Kathabai and Thanda Pani, another difficult climb begins, which during this period becomes slippery as it passes through small glaciers.
At certain points, the road is narrow and one has to tread carefully. Once the peak is crossed, a fine road leads to Kamru Nag. Kamru Nag, has a famous wooden temple and a big water pond.
The descent from Kamru, Nag to Rohanda is 6 km. Taking this wide track, one reaches the Karsog Mandi road.