Social monitor
Common girl with uncommon grit
Smriti Kak


What is dowry?
Dowry is defined in the Act as any property or valuable security given or agreed to be given by one party to the marriage to the other party to the marriage, at/before or at any time after the marriage, in connection with the marriage. This may be given directly or indirectly and also could be given either by the parents of either party or any other person to either party or to any other person, but has to be given in connection with the marriage.
Penalty
Any person who gives/takes or abets the giving or taking of dowry shall be punishable under the Act with imprisonment of not less than five years and fine which shall not be less than fifteen thousand rupees or the value of the dowry, whichever is more.
Gifts
Gifts/presents given at the time of marriage to the bride/bridegroom are not considered to be dowry provided:
(a) They are given without any demand having been made;
(b) Lists of such gifts are maintained, i.e., list of gifts/presents, their approximate value, the name of the givers, etc., should be maintained and should contain the signatures of both the parties to the marriage, or thumb impression if the party to the marriage is illiterate along with the signature of the person who has read out the list to the illiterate party.
(c) Where such gifts are made on behalf of the bride or by any person related to the bride, such presents should be of a customary nature and the value of such gifts should not be excessive having regard to the financial status of the giver or the person on whose behalf they are given.
CIRCA 1960: A bride in all her finery returns from the mandap. Desolate. The groom, his lust for dowry unfulfilled, has returned. What follows is social ostracism and in all probability spells suicide for the bride if not for the whole family. Circa 2003: A bride in all her finery returns from the mandap. Undaunted. The groom, his lust for dowry insatiate, has been sent packing off. What follows are accolades. The girl is an icon and hailed as the epitome of courage.
It is not just the course of time and the transformation of attitudes we need to ponder over. Read between the lines to follow the evolution of dowry. From a demand that was buttressed with the threat of dire consequences, it has emerged as an instrument of buying happiness for the daughter.
Nisha Sharma's father and fiancé struck a deal. While handing over the keys to the sparkling new Maruti Esteem, the father in return wanted the same glee on his daughter's face that was so conspicuous on the fiancé's face.
Says D.D Sharma, "I told him when I gave him the key, the way you are happy, I want my daughter to be happy". Little realising that he was aiding dowry, albeit in a new avtaar.
Sharma and his daughter Nisha raised a cry against dowry, but only when they felt they could give no more. Unabashed, they recount the "gifts" the family had purchased to be given at the time of the marriage. This with the intention of buying happiness for their daughter.
Two sets of refrigerators, two air conditioners, two washing machines, two music systems, a microwave oven, two televisions, a Maruti Esteem are just a few gifts that were meant to keep Nisha Sharma company in her new matrimonial home.
"These are gifts that my family wanted to give to Nisha. This was wilfully. But when the groom's family began pressurising us for money, we decided to put our foot down", claims Sharma.
Clarifying that the extra refrigerator, washing machine and the air conditioner were for the groom's elder brother, Sharma says, "women bicker over comforts, while men squabble over assets. When Munish told Nisha that his elder brother has not been looked after, I decided to buy him material comforts".
Things turned sour when the Dalal family, headed by the groom's mother Vidya, demanded Rs. 12 lakh in cash. "They started dropping hints a day after the engagement ceremony and on the wedding day Munish's mother created a ruckus and slapped me", says Sharma.
Enraged at her father's humiliation, Nisha then called up the police. What followed was adulation for the spirited girl who chose to call off the wedding. A book, a teleserial and a cartoon strip will recount the tale of the petite yet fiery girl who is now looking forward to finishing her studies and getting married to a boy who papa thinks is best.
The Dalals' story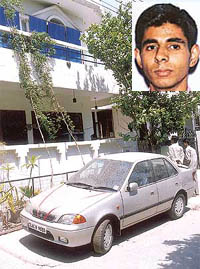 The Maruti Esteem parked outside the Sharma residence and (inset) Navneet Rai.
— Photos Mukesh Aggarwal
The picture of Nisha's courage has been splashed with colours of controversy. Just when the sound of cheer was rising high, in stepped a former classmate Navneet Rai, to claim that Nisha who was opposed to marrying Munish was still in love with him. Navneet recalled a five-year relationship with Nisha.
"This is a way to malign my daughter's name. She was interested in Navneet, I also went with a proposal, but when I realised that he was unemployed and wanted to live off me, I decided against the match. In fact, after Nisha refused to marry Navneet and spurned his advances, he misbehaved. She later filed a written complaint against him and got him expelled from college".
Together with the Dalals, Navneet Rai's revelations have now clouded Nisha's supposed bravado. The Dalals allege that they sought no dowry and only raised questions about Nisha's relationship with Rai.
"Nisha's uncles have told us that she was interested in marrying Navneet. We have bee falsely implicated in the case. We did not ask for dowry, and even at the time of the engagement ceremony we were not given any cash or kind. They came with fruits and sweets and nothing else", alleges Rishi Dalal, Munish's elder brother.
He adds, "when we reached the venue there was no one to receive us, Nisha's father abused my mother, hit her and snatched what she was carrying with her. In fact, it was Munish who first called the police and if we were guilty of asking for dowry, Munish would not have been arrested from his house, he would have been absconding".
While the city is celebrating Nisha's deed, there are questions cropping vis-`E0-vis the motive behind the emotion. Was Nisha a woman scorned or is she a victim of a social discrepancy?
There are unanswered questions as to whether the gifts that lie stacked in their packing at the Sharma household are just another form of dowry, only this time met without demands.
Twist in the tale
Nisha Sharma displayed courage by calling off the wedding. She rebelled against the norm and set an example for others. However, like most girls from conventional families, she also agreed to take "gifts for her new matrimonial home".
"My father wanted to give me gifts and when Munish asked for specific brands it was ok with us as we were anyway buying the articles", said Nisha, when questioned why she agreed to accept Munish's demands.
Nisha Sharma's father is confident that he can prove that the Dalal's sought dowry. "I have audio and video tapes to prove my point. The conversation has been tapped by me. There are video recordings that will validate whatever I have given to the Dalals", said Sharma.
When this correspondent questioned him as to way he did not report the matter to the police prior to the wedding, considering he had realised that Dala's were seeking dowry, he said, " I wanted to be sure". While Dalals claim that they never asked for dowry and did not even receive any gifts prior to the wedding, the Sharmas differ. "During the engagement ceremony we gave them, furniture, utensils, cash, gold and silver coins and clothes apart from fruits and sweets", said Sharma.
Though Sharma maintains that he was giving the items as "gifts wilfully", there are contradictions that seem to emerge.
When the Dalals specified that they wanted appliances of certain brands and also hinted about wanting money, why did the Sharmas fail to register their protest? "This may be seen as contributory negligence on the part of the bride's family. By accepting the demands for buying brands of a certain brand they have become party to it", claimed Ashok Aggarwal, a lawyer.
Social activist and General Secretary, All India Democratic Women's Association, Brinda Karat said, "The parents, by giving so many presents have acted like conventional parents. If they could afford, they should have given Nisha equal property rights". She added, "giving gifts in sets of two is sending a wrong signal". Senior lawyer Pinky Anand sees Nisha's case as "One that showcases awakening at the right time". She said, "at least she put an end to it at the right time. There are others who wait for years to file a case".
Papas' girl
In a modestly decorated house in Noida, Nisha Sharma sits dwarfed by a pile of gifts. Latest additions to the room are a variety of bouquets and mementos that were presented to her at various felicitation ceremonies. The red lehnga lying discarded in her wardrobe does not evoke remorse, "I am glad I did not get married to Munish. They could have done anything to me later on".
"I have been giving at least 20 interviews a day", claims the girl who despite having no knowledge about a NGO has already been approached to join a NGO, there are offers from film producer and writers besides political parties.
"I am not going to join politics, I want to get on with life and finish my studies", says Nisha. Reluctant and somewhat unsure, she adds, "I have not decided whether I will accept the proposals for the comic book and a serial based on my story".
Tired of media attention and eager to get on with her life, this computer science student exhibits immense faith in her father's counsel, "He knows best. I will marry whoever he chooses and do what he wants me to do".