M A I N N E W S
3 new Cabinet ministers sworn in
Five Ministers of State also inducted into Vajpayee's ministry
Tribune News Service and UNI
New Delhi, May 24
In a much-awaited Cabinet expansion-cum-reshuffle, Prime Minister Atal Bihari Vajpayee today named three new Cabinet ministers and five Ministers of State to the Union Council of Ministers.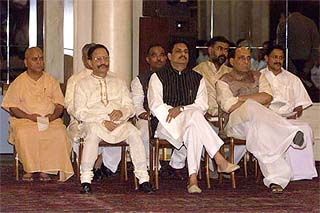 Front row from left: B.C. Kanduri, Subhod Mohite and Rajnath Singh; back row from left: Swami Chinmayanand, Kailesh Meghwal, Nagmani, Pralad Patel and P.C. Thomas sit during a Cabinet reshuffle in New Delhi on Saturday. — Reuters photo

The Cabinet ministers are Major-Gen B.C. Khanduri (retd), Mr Rajnath Singh and Mr Subodh Mohite, while the Ministers of State are Mr Prahlad Patel, Mr Kailash Meghwal, Swamy Chinmayanand, Mr Nagmani and Mr P.C. Thomas.
While Mr Khanduri has been elevated to Cabinet rank from the Minister of State with independent charge, Mr Rajnath Singh makes a comeback to the Vajpayee Cabinet after two years.
Mr Mohite comes in place of Balasaheb Vikhe Patil, who resigned earlier in the day. Mr Patil's replacement with Mr Mohite was sought by Shiv Sena chief Bal Thackeray.
The three Cabinet ministers and five Ministers of State were sworn in by President A.P.J. Abdul Kalam late this evening at a glittering function in the Ashoka Hall of Rashtrapati Bhavan.
With today's reshuffle, the 11th since Mr Vajpayee assumed office in 1999, the strength of his jumbo Council of Ministers now stands at 79, equalling the record of former Prime Minister P. V. Narasimha Rao. Today's exercise has affected 16 ministers.
The fresh Council of Ministers will now have 31 Cabinet-rank ministers, including Mr Vajpayee, six Ministers of State with independent charge, and 43 Ministers of State.
The induction of BJP men, Mr Meghwal (Rajasthan) and Mr Patel (Madhya Pradesh), is seen as an exercise aimed at bettering the party's prospects in the forthcoming elections in these two states later this year.
Swamy Chinmayanand (Uttar Pradesh) is the first Vishwa Hindu Parishad man to enter the Vajpayee government. The Swamy, a Lok Sabha member from Jaunpur, has been in the forefront of the Ayodhya agitation.
Mr Nagmani, originally elected on the Rashtriya Janata Dal ticket, has been rewarded for rebelling against the Laloo Yadav leadership. Mr P.C. Thomas is the leader of the six-member independent group, known as the Indian Federal Democratic Party, which had extended support to the Vajpayee government after the Lok Sabha elections.
Earlier in the day, Mr Vajpayee decided to keep out Trinamool Congress nominees Mamata Banerjee and Sudip Bandopadhya from this evening's Cabinet expansion-cum-reshuffle.
The decision was apparently taken after Mr Vajpayee held last-in-the-series consultations on the matter with Deputy Prime Minister L. K. Advani, Finance Minister Jaswant Singh and BJP President M. Venkaiah Naidu at his residence this morning. The meeting was convened after Ms Mamata Banerjee publicly aired her protest in Kolkata that she would not join the Union Cabinet in view of the proposed induction of her estranged party colleague Sudip Bandopadhaya as Minister of State. She was upset that Mr Bandopadhyay was being inducted into the Union Council of Ministers without consultations with her.
Ms Banerjee wrote to Mr Vajpayee seeking clarification on media reports about the induction of Mr Bandhopadhyay.
In her letter faxed to the Prime Minister, she urged Mr Vajpayee to reconsider his decision to induct Mr Bandyopadhayay, saying that it was the prerogative of the party to decide as to who would be the second minister besides herself.
Before Ms Banerjee left the Union Cabinet as the Railway Minister, she had similarly developed reservations about her party colleague Ajit Panja who was then Minister of State in the Ministry of External Affairs.
Ms Banerjee cancelled her trip to Delhi from Kolkata for the swearing-in ceremony in which she was to rejoin the Cabinet after two years. Mr Venkaiah Naidu and NDA convener George Fernandes also spoke to her on the phone. The Prime Minister will discuss the matter with Ms Banerjee at an "appropriate time".