Tohra shows some improvement
Tribune News Service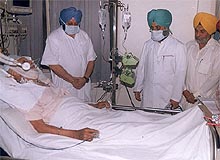 Punjab Chief Minister Amarinder Singh calls on the ailing Mr Gurcharan Singh Tohra at a private hospital in Patiala on Tuesday. — photo Subhash Patialvi

Patiala, May 27
Veteran Akali leader Gurcharan Singh Tohra, who was admitted to a local hospital following a massive heart attack yesterday, was stated to be improving today though he continues to be on life support system. He was visited by Punjab Chief Minister Capt Amarinder Singh and the Shiromani Akali Dal President Parkash Singh Badal besides a host of Akali leaders, including the Shiromani Committee chief, Mr Kirpal Singh Badungar, and former Akal Takht Jathedar Bhai Ranjit Singh.
While Capt Amarinder Singh offered the use of the state aeroplane to the veteran leader, the SAD chief announced that unity between the SAD and the Sarb Hind Shiromani Akali Dal had already taken place.
Capt Amarinder Singh stole a march over many leaders by arriving at 9.45 a.m. to inquire about the health of the veteran Akali leader. The Chief Minister held a meeting with doctors of the Patiala Heart Institute, led by Dr Gurpreet Singh Sidhu, besides announcing that the state government was ready to put its aeroplane at the service of Mr Tohra in case he was to be shifted elsewhere or some doctor had to be brought to be the city to examine him. Referring to the Akali leader as "jathedar sahib", the Chief Minister said he would pray for his welfare as the people of Punjab still needed his services.
Meanwhile, SAD chief, Mr Parkash Singh Badal, visited the hospital in the evening along with Mr Kirpal Singh Badungar. Speaking to newsmen on the occasion, Mr Badal said unity had been achieved between his party and that of Mr Tohra's. When asked whether he was making a declaration, he said a formal declaration would be announced jointly by both parties.
Mr Badal also announced that he would present himself before the Akal Takht on June 5 and undergo whatever punishment was awarded to him. When asked whether the illness of Mr Tohra would slow down the unity moves, he said he did not think like that. He said he hoped that Mr Tohra would recover from his illness quickly.
A host of Akali leaders came to enquire about the health of the octogenarian leader, including many from the SAD. These included former minister Ajaib Singh Mukhmailpur, Mr Tejinderpal Singh Sandhu and legislator Surjit Singh Rakhra, Mr Prem Singh Chandumajra and former minister Surjit Singh Kohli.
Dr Gurpreet Singh Sidhu told newsmen that Mr Tohra was maintaining his vital parameters though he continued to be on life support system, including ventilatory support.
Earlier, Dr Sidhu, after consultations with Dr Upinder Pal of Batra Hospital where Mr Tohra underwent heart bypass surgery in December last year said there was no need to shift the Akali leader as his condition was stable.