NFL: Goan dominance visible
Amardeep Bhattal
Kolkata's soccer-crazy population had another occasion to rejoice as crowd-pullers East Bengal lifted the title in the seventh National Football League which concluded last month. Tallying 49 points from 15 victories and three draws, East Bengal in fact created an NFL record. Not only that, the red and gold brigade created a record of sorts, winning as many as five titles, including the Independence Cup, Kolkata Senior Division, IFA Shield, and the Durand Cup, However, runners-up Vasco's plea that East Bengal should be stripped of the title as they fielded Brazilian medio Douglas De Silva in the crucial match against them at Kolkata on April 25 sent ripples across the maidan. Vasco's stance was not without basis. The key player's visa had expired and as such his participation in the match which East Bengal won 4-0 was illegal. However, the AIFF refused to buy the argument while asserting that the title would stay with the Kolkata giants, providing some relief to Subhas Bhomick's squad.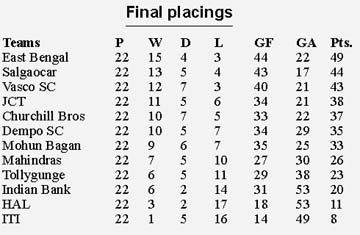 Arch rivals and NFL's defending champions Mohun Bagan, who were pushed to the seventh position, had their cup of woes overflowing. A miserable run culminating in a shock defeat and sack of coach Subrata Bhattacharya and suspension of key players indicated the sorry state of affairs. The suspension of foreign recruits George Ekeh and Esa Musa Eroje followed by Vasco SC's threat to sue the former champions over the deal with Marcos Pereira only compounded Bagan's misery.
The domination of Goan outfits, namely Salgaocar, Vasco, Churchill Brothers and Dempo, was clearly visible in the six-month long league. All four finished among the top six and Vasco, in fact, came rather close to winning the title itself. The remarkable progress by Punjab's JCT Phagwara, significant role of foreigners, and relegation of two Bangalore outfits, namely Hindustan Aeronautics Ltd and Indian Telephone Industries were among the highlights of the NFL. The promotion of Kolkata's Mohammedan Sporting along with Goa's Haywards Sporting Club only means that the next edition will be dominated by teams from Kolkata and Goa as nine outfits out of 12 will be from these two cities.
As in the past, a foreigner, Yusif Yakubu of Goa's Churchill Brothers with 21 goals once again emerged as the top scorer. He was followed by East Bengal's Mike Okoro and Vasco's Marcos Pereira with 17 and 15 goals, respectively.
Spread over six months, the national league featuring 12 top clubs of India provided shocks and surprises in abundance. While title winners East Bengal won 15 of the 22 matches, bottom placed Indian Telephone Industries, Bangalore, could register only one victory, which came in the 18th round against Hindustan Aeronautics Limited. Chennai's Indian Bank and HAL had the dubious distinction of conceding the maximum goals, 53 to be precise, while runners-up Salgaocar conceded only 17.
Punjab's JCT Phagwara, the only team in the national league from north India, registered remarkable progress this time, unlike the pathetic showing last season when they barely escaped relegation. The mill men, assisted by internationals Jo Paul Ancheri and IM Vijayan, besides Ghanians Mohammed Mansuru and Kwabena Yeboah fought their way to the top and with a little more luck could have even finished third. Striker Hardip Gill, medio Hardip Saini, winger Jaswinder Singh and stopper back Musa Aliu performed creditably,especially on home ground. The victories over East Bengal and Mohun Bagan were the high points of JCT's campaign, planned meticulously by former national coach Sukhwinder Singh, and his deputy and former Asian star Parminder Singh.
In all 10 hat-tricks were scored in the league and foreigners clearly held the edge, accounting for six. The hat-trick scorers were East Bengal's George Ekeh (two); Mike Okoro (one), Alvito D' Cunha (one); Vasco's Rui Wanderley Weis and Agnelo Jose Gomes (one each); Salgaocar's Dudu Omagbemi (one), Indian Bank's Kasun Nadika Jeyasuriya (two); and Yusif Yakubu of Churchill Brothers (one). The biggest victory of the league was recorded by Goa's Vasco SC who trounced Bangalore's Hindustan Aeronautics Limited 8-0 at Margao on April 9,2003. The match also witnessed the highest score by an individual with Agnelo Gomes scoring four, including a hat-trick.