Social monitor
Sexist textbooks not in tune with the times
Firoz Ahmed Bakht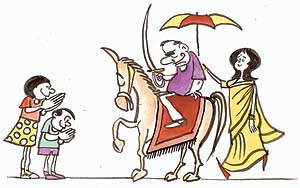 A five-year old is told in his primary textbook that daddy is the king of the family and mummy, a caring deputy. It happens to be one of those textbooks of school children that perpetuate inherent gender bias by assigning traditional roles to men and women reinforcing stereotypes. What is more ironic is that the preface of the book advocates "`85to develop the right social attitudes and values in a growing child`85" Despite a conscious effort on the part of the National Policy on Education (1986) and the perspective plan (1988), women are are depicted in traditional typecasts as cooks, housewives, nurses, etc.
According to eminent Supreme Court lawyer, B.B.Sawhney, at the basis of the problem demonstrating a lackadaisical approach to the education of girls lies in our tradition and culture, social attitudes, poverty, fear of violence and exploitation besides early marriage. How ironic it is to talk about women's empowerment in such a situation!
Though NCERT too has been laying stress on removing the gender disparities specifically emphasising the elimination of sex stereotypes and sex biases from text books, study material made available to the primary school student is replete with instances of such discriminatory attitudes. Be it a book on science, social studies, mathematics, English or Hindi, women can be seen fetching water, working in kitchens or cleaning the room. Lessons too are male-centred where stories are generally about boys. Boys occur in most illustrations and most instructions in workbooks too are addressed to them. References like - "a farmer, his land and his son", "mother fills water in the pots" and "my sister washes clothes" etc.-are all examples of a bias at subconscious levels. Truth is that women are portrayed as gentle emotional beings with less precise minds, somewhat weak, fragile and frail and best when caring and tending to others.
Amongst the findings of a survey report by Friends for Education, a forum for the uplift of education, culture and civic sense, it was found that the average length of a primary textbook in India is about 115-130 pages with every text having an average of 80-100 illustrations with 52 per cent depicting men and boys, 28 per cent neutral objects, 14 per cent mixed and only 6 per cent portrayed women and girl - children. Women, however, are not only losing on the number front alone as the hardest hit comes when we see the constant association of certain traits with males and females. Men man spaces that are conventionally and socially seen as public and outdoor assignments that project them in stronger roles like policemen, engineers, lawyers, professors, pilots, mechanics etc.
Even today the textbooks of the primary children by NCERT show gender bias as most of the really adventurous and enterprising roles like that of astronauts, soldiers and sportspersons, are men. The urgency and importance given to having a son to attain moksha (salvation) and the tradition of kanyadaan (to give the daughter away in wedding) for fulfilling the duties of the grihastha ashram (homely duties) paves the way for the socio-cultural discrimination of girls from the moment they are born. They are treated as paraya dhan (groom's property) and investing in them is considered a waste of money and resources.
The task of ridding these books of gender discrimination will prove to be a Herculean one as according to the research of Friends for Education, most of the primary books and especially of social and environmental level depict women involved in the household chores while men are shown as agriculturists, scientists, inventors, doctors and other professionals.
Girls, in most cases, are shown as passive observers where the boys are seen performing important experiments. Even in the six mathematics books used in the primary classes, men dominate in activities representing commercial, occupational and marketing situations. Not one woman has been shown as a shopkeeper, merchant, executive, engineer or seller.
Even in jobs dealing in money like transaction in a bank, saving schemes etc., are all managed by men even in textbooks at higher levels. Five Hindi and five English textbooks evaluated by Friends for Education show that men are more adventurous, schematic, aggressive and with a scientific bent of mind. In fact these kinds of texts are actually responsible for the lack of interest that girls show for science at the secondary and senior secondary levels. As a result, a majority of girls take to literary and social science courses thus ending up as weaker sex stereotypes. In fact, the truth is that at a subconscious level these texts are preparing boys to achieve in the marketplace while girls are trained to be submissive and to obey at home.
Educational psychologists worry that gender stereotypes adversely affect the emotional psyche of children by forcing them to perform a set pattern of behavior pre-determined on the basis of gender discrimination. Boys are taught to associate most of the indoor activities and the action of caring looking after people with feminine activity. But in the USA, the pattern is different and in a primary level textbook men are also seen doing jobs like baby-sitting, cleaning the house, washing clothes etc. Even at places boys are shown losing tennis and basketball matches to girls.
It was in 1982-83 that the NCERT for the first time tried to identify areas of sex bias in language textbooks. When their representatives met the primary teachers about sorting the problem, it was shocking revelation that they were completely oblivious about sexist stereotypes. Some projects and workshops were launched to build up awareness for the elimination of this gender difference but the situation remains the same even after a decade-and-a half. Even today, in most of our primary schools, girls along with boys are referred to as beta (son) thereby annihilating their mere presence in the class. No boy has ever been referred to as beti (daughter)! Well, considering that the teachers (even the females) barely recognise the presence of girls in the classroom, sensitivity to subtler gender issues as might occur in the texts is a far cry.
But of late, despite the NCERT, having developed a set of guidelines for the elimination of gender stereotyping in textual material and the same disseminated to the authors and publishers, not much has changed. It all began in 1975 after a conference was held to examine the "Status of women through curriculum". Subsequent to this, NCERT has also set up a women's study group that conducts series of evaluation and workshops. Known as Department of Women's Studies, useful research work has been carried out by Sushma Jairath, Janki Rajan, Usha Nayar, Gauri Srivastava, Urvashi Butalia, Sudha Kale and Raj Rani. Urvashi Butalia has also worked in six countries. To her chagrin she complains, "Our commitment to make girls a part of the educational process has not met with even an iota of success in most parts of India. In a country like India most girls get married by or before they are 20.
According to the World Youth Report 2001, 50 per cent girls in India get married in the age group 15-19 and immediately there are pressures on them for early fertility that further reduces their chances of getting along with further studies. Even the schools do not support girls with early fertility with nurseries to look after their siblings. Similar is the problem with schoolgirls of the same age group in the USA who do not pursue their studies owing to increased urges for sexuality but their schools support them with nurseries.
In spite of the sincere efforts on the part of the NCERT, it is just impossible to keep a vigil on all and sundry publishers who often bring out spurious publications that can be detrimental for the crystallizing, young impressionistic minds. Publishers have to be cautious if any changes are to percolate at the social level regarding this sensitive issue. It is time that the blunders we have made at conscious or subconscious levels are remedied for we owe it to our children that proper gender understanding is drilled unto their minds.