Councillors demand re-survey of house tax
Sonepat, May 31
The demand for re-survey to assess house tax dominated the proceedings of the day long local Municipal Council's meeting here yesterday.
SEARCH WITHIN
Forget failure, make the best use of your talent
I do not want to suffer the ignominy of being called a failure" wrote Sakshi Singhal, a class XII student of Srinivaspuri, in her suicide note before hanging herself from the ceiling with her dupatta on May 23.
Buses on 60 rural routes soon
Sonepat, May 31
The government is planning to issue 8,000 permits to cooperative transport societies in the state. With this, over 60 bus routes will become operative in this district alone.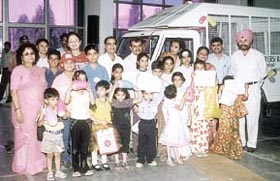 Hope for animals on streets, mobile clinic launched
New Delhi, May 31
Just when no one seemed to care for the vulnerable animals who are left to fend for themselves on the streets, there seems to be hope after all.
The Circle of Animal Lovers launched a mobile clinic for animals in the Capital.
Punjabis' global council meets
New Delhi, May 31
The first general meeting of the International Council of Punjabis to mobilise support for the mass signature campaign from May 15 to August 15 demanding second language status for Punjabi was held at Alpha Garden, Pusa Road, here.
SPECIAL FOCUS ON REWARI
Bringing quality education to students of poor families
Rewari, May 31
With the establishment of Narmada Devi Singhania International School (NDSIS) as well as the Singhania Institute of Law, Management, Science and Technology (SILMST) at Pacheri Bari village, the Singhania Foundation and Education Samiti (SFES) has brought quality education to the talented but underprivileged students of this backward region.
Vidrohi in consumer council
Youths held for bid to loot
NCR BRIEFS
Six criminals arrested
New Delhi, May 31
Six Bangladeshi criminals were apprehended by the North district police while they were planning to commit dacoity in the Shalimar Bagh area in North-West district. The police also recovered button actuated knives and iron rods from their possession.
Auto thieves arrested
Free opticals distribution camp