Shabir Shah of Democratic Freedom Party says the party supports the latest peace initiatives taken by India and Pakistan.

(28k, 56k)
4 ultras killed, cop hurt
Srinagar, June 2
Security forces killed four militants in Jammu and Kashmir while a police constable was wounded when militants shot at him near here, this afternoon. Official sources said militants shot at and critically wounded a police constable, Mr Ghulam Hassan, near Court Road, this afternoon.
Gujjars caught in crossfire
Jammu, June 2
Gujjars and Bakerwals have been sandwiched between the security forces and militants. While militants have started targeting Gujjars in the Poonch and Rajouri areas, the security forces have been preventing these nomadic tribes from carrying their cattle to the alpine forest belts.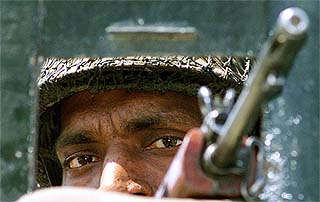 A BSF soldier looks through the window of his armoured vehicle outside the Kashmir Legislative Assembly complex in Srinagar on Monday. Security has been beefed up at the complex as lawmakers are meeting to discuss the state budget. — Reuters

Pak firing forces 100 families to migrate
Jammu, June 2
Pakistani troops fired on some Indian border outposts in Jammu Division to disrupt the fencing work, sources in the Border Security Force have said here today. Pakistani Rangers from across the international border opened fire on the outposts at Nikowal in the R.S. Pura Sector, Alfa Machal in the Akhnoor sector Border Outpost Phadpur in the Samba Sector last night.
New GOC-in-C pays homage to martyrs
Jammu, June 2
Lt-Gen Hari Prasad, General Officer Commanding-in-Chief of the Northern Command, today visited "Dhruva" the wall of remembrance at the headquarters of the Northern Command.
Rs 3.30-cr aid for militancy-hit
Srinagar, June 2
The Jammu and Kashmir State Human Rights Commission has recommended an exgratia relief of more than Rs 3.30 crore in favour of the family members of insurgency-related victims, official sources said.