M A I N N E W S
Five riot widows chosen for immolation today
Varinder Walia
Tribune News Service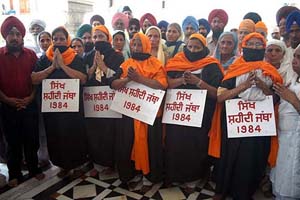 Five women belonging to the Danga Peerit Welfare Society who volunteered for self immolation. — Photo Sawinder Singh
Amritsar, June 2
Flouting the directive of the Jathedar, Akal Takht, widows of the 1984 anti-Sikh riot victims today performed ardas at Akal Takht. They have threatened to immolate in front of the residence of the Chief Minister at Chandigarh tomorrow.
The five widows who were selected for immolation are Bibi Harbans Kaur, Bibi Gurdip Kaur, Bibi Gurcharn Kaur, Bibi Kashmir Kaur and Mata Harbans Kaur. They wore black cloaks at the time of 'ardas'. The oldest widow selected for immolation is Mata Harbans Kaur (67) whose husband, son and son-in-law were set ablaze by the rioters after pouring kerosene of them.
Earlier, the Jathedar, Giani Joginder Singh Vedanti, had disapproved of the idea of immolation. When a deputation of the riot victims met Jathedar Vedanti in his office a few days back, he told them that the Sikh tenets did not approve of such steps. However, the victims of the Delhi riots pleaded that they were left with no option but to take this extreme step. They claimed that they had knocked the doors of the SGPC, Akal Takht and Akali dals for seeking justice, but in vain.
The widows vied with one another to be selected for the 'shaheedi jatha'. However, the organisers said only five would be selected for the first phase of immolation.
The Sikh clergy had recently banned any sort of protest on the premises of the SGPC and Akal Takht complex. Madhvi, whose father and four sisters were brutally killed during the anti-Sikh riots fell unconscious today. She insisted that she wanted to be selected for the 'shaheedi jatha' (immolation) as there was no charm for her to live any more. Madhvi said that she was a child when her entire family was wiped out during the riots.
The protesters were carrying placards which read "Sikh shaheedi jatha-1984".
Earlier, a deputation of Delhi riot victims had come here under the banner of the Danga Pirat Welfare Society. They had claimed that there were more than 30,000 widows in Delhi, Punjab, Kanpur and other parts of the country who had been going from pillar to post to seek justice, but nobody had come forward to extend any help.
The task force of the SGPC remained a mute spectator even as the Sikh clergy have banned any protest on the premises.
The victims raised slogans against the Congress and its leaders, including Ms Sonia Gandhi.