Ring the bell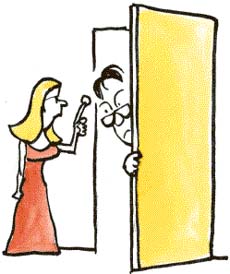 PASSING an office building late one night, the blonde saw a sign that said, "Press bell for night watchman." She did so, and after several minutes, she heard the watchman clomping down the stairs. The uniformed man proceeded to unlock the first gate, then another, shut down the alarm system, and finally made his way through the revolving door.
"Well," he snarled at the blonde, "What do you want?"
"I just wanted to know why you can't ring it yourself."
Secret
At a dinner party, several of the guests were arguing whether men or women were more trustworthy. "No woman," said one man, scornfully, "can keep a secret."
"I don't know about that," answered a woman guest. "I have kept my age a secret since I was twentyone."
"You'll let it out some day," the man insisted.
"I hardly think so!" responded the lady. "When a woman has kept a secret for twentyseven years, she can keep it forever."