BODY & MIND
Putting back the hands of time...
Tripti Nath
THOSE disillusioned with their ageing image in the mirror can now buy youthful looks again. The much-talked about age defying treatment options successfully tried by film stars are now available in India. It is now possible to get rid of fine lines and wrinkles in just 20 minutes, says Dr Vimal Malik, a surgeon, who runs Eleganza, a rejuvenation clinic, in Rajouri Garden, with his wife, Dr Seema Malik (a pathologist and laser expert). The instant removal of wrinkles and fine lines is done by the revolutionary technology of Gel Implant. Dr Vimal Malik says that the FDA approved technology is painless and free of any side effects. The treatment is also used for shaping facial contour, lip sculpting and correction of facial hollow cheeks.
The treatment costs anything between Rs 10,000 and Rs 20,000 depending on the extent of work a face demands. The product used in the treatment is Non-Animal Synthetic Hyalarunic Acid (NASHA) 20 mg/ml and physiological saline pH 7 qs The gel is available in three forms depending on the molecular size of the NASHA.
The gel is clear and transparent and as biodegradable as the hyaluronic acid of the body. Follow up treatment, is therefore, needed only after a year. A second sitting would also depend on other factors such as the skin, lifestage, age and the degree of perfection demanded by the client.
Dr Malik says that about five patients come to their clinic every week for removal of wrinkles. He says that the Gel Implant technique has been used by over 500 million people across the world including Hollywood celebrities as Mellani Griffeth, Demi Moore and Meg Ryan.
Lifetime achievement award for docs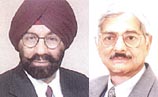 Dr D.S. Gambhir and Dr S.K. Sama honoured with DMA Ratna.
Two Delhi based doctors- Dr S.K. Sama, Chairman of Ganga Ram Hospital, and Dr D.S. Gambhir, an eminent Cardiologist, have been honoured with DMA (Delhi Medical Association) Ratna for contribution in the field of gastroenterology and interventional cardiology. The Chief Minister of Delhi, Mrs Shiela Dikshit, gave away the lifetime achievement award, carrying silver trophies, to Dr Sama and Dr Gambhir on the opening day of the 46th annual medical conference of DMA. In her inaugural address, Mrs Dikshit called upon private medical practitioners to provide concessional or free services to atleast 10 per cent of patients who cannot afford treatment. She expressed the hope that the voluntary service would serve to eradicate the menace of quackery.
Addressing a gathering of about 500 doctors, the Health Minister of Delhi, Dr A.K. Walia, said that the role of the private practitioner cannot be ignored as he is the first to reach the reach in an emergency. Dr Walia said that all doctors ought to update their knowledge about resuscitation on an annual basis.
DMA President, Dr Anil Bansal, reiterated the association's commitment to provide state-of-the-art preventive health care to society.
GBC award for Tata Steel
Tata Steel has recently been honoured with the prestigious Global Business Coalition Award (GBC) for 2003 for business excellence in the community for its outstanding HIV/AIDS awareness work in Jamshedpur. The Chairman of Tata Group, Mr Ratan N.Tata, received the award from the Chairman of GBC, Mr Juergen Schrempp, and Chairman and CEO of Daimler Chrysler Corporation, at a function in Washington D.C.
The Global Business Coalition on HIV/AIDS is an alliance of more than 100 international companies dedicated to combating the disease. The annual award recognises best practices in prevention of HIV/AIDS and reduction of stigma and discrimination. Tata Steel implemented its AIDS awareness programme in 1993 by a core group of AIDS and an AIDS cell to formulate strategies for control and prevention of the disease. The programme targets children and youth, marginalised sections of society, domestic servants, truck and taxi drives, barbers, migrant and casual labourers and police and army personnel.
Batra Hospital signs agreement with ITBP
Batra Hospital and Medical Research Centre, a super-speciality hospital, here has signed an agreement with Indo-Tibetan Border Police to provide treatment to serving ITBP personnel and their family members for cardiac procedures as CAG, PTCA, CABG, EF Study, Cardio Vacular Procedure, MRI, CT, Imaging, Chemotherapy and Cancer radiation therapy. The agreement entitles ITBP personnel to free medication for cardiac and cancer related diseases at the 600-bed hospital on production of their identity card and permission by ITBP. The Batra Hospital will claim the cost of treatment from ITBP.
Visiting dignitary at Escorts
During a week long visit to India beginning Sunday, the Prime Minister of Lao People's Democratic Republic, Mr Bounnhang Vorachit, will visit the Escorts Heart Institute and Research Centre (EHIRC) on Tuesday. Mr Vorachit is visiting India to explore bilateral economic co-operation in health sector.