Two lakh youths to get jobs: Chautala
Sonepat, June 16
The Haryana government has launched many schemes to generate employment for the educated youths.
Civic amenities in Meerut 'to turn a corner'
Meerut, June 16
Divisional Commissioner Nepal Singh Ravi rued the fact that his administration could not do well in the field of civil amenities. "Our focus will be in the civil amenities in the current year and people in the cities as well as in villages will see considerable changes in this field," Mr Ravi said.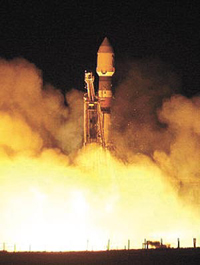 BRASS TACKS
Flurry of missions to Mars, which is suddenly within reach


With a surfeit of exploratory missions being launched this month, the planet Mars appears to have become the current favourite destination. Mars Express, the European mission, has already taken off from the Baikonur cosmodrome in Kazakhstan on June 2.
The launch of Mars Express.
Plan to expedite tubewell connections
Bhiwani, June 16
The Dakshin Haryana Bijli Vitran Nigam (DHBVN) has decided to accelerate the pace of releasing connections of tubewells in its area. Stating this yesterday, Mr V. Umashanker, managing director of the DHBVN, said that 5,000 additional transformers of 25 KV capacity and 35,000 poles would be purchased to release more tubewell connections.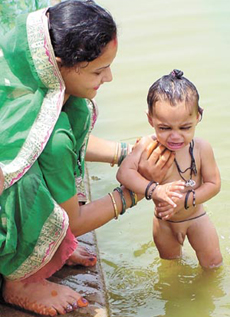 Guru Arjan Dev's martyrdom day observed
New Delhi, June 16
A huge congregation was today held at Gurdwara Rakab Ganj Sahib to commemorate the martyrdom day anniversary of Guru Arjan Dev Ji, the fifth Guru of the Sikhs, under the auspices of the Delhi Sikh Gurdwara Management Committee. The programme started early in the morning with the recitation of Sukhmani Sahib and Nitnem.
A mother bathing her child on the occasion of Guru Arjan Dev's Martyrdom Day at Gurdwara Bangla Sahib Sarovar in the Capital on Monday.
— Tribune Photo Mukesh Aggarwal

White Paper to list issues of public concern
New Delhi, June 16
Chief Minister Sheila Dikshit says the Government of NCT of Delhi is preparing a White Paper that will list the issues for public discussion. The White Paper, she says, is needed as she is 'helpless' in providing succour to the economically challenged.
FACE TO FACE


'Earn money by honest means and spend some of it for the uplift of the downtrodden'
Unassuming and polite, Devesh Sharma, CEO of a Delhi based advertising firm, has become a cynosure in the eyes of his competitors. Born and educated in Delhi, this young entrepreneur is an example of the age-old adage that 'when the going gets tough, the tough get going'.
SONEPAT
Heatwave snuffs out three lives
Sonepat, June 16
The current heatwave has claimed three lives so far in Sonepat district. According to a report, the police recovered the body of an unidentified youth (26), lying on the road near Rohna village about 15 km from here yesterday.
Three-wheeler overturns
Blood donation camp
Phones go phut
Man robbed of Rs 15,210
SPECIAL FOCUS ON FARIDABAD
Mobile telephony eats into demand for landline connections
Faridabad, June 16
The increasing penetration of mobile telephony appears to have cast a direct impact on the demand for basic telephone services, in rural as well as urban areas here.
NCR BRIEFS
Heat stroke, gastroenteritis claim five lives
Narnaul, June 16
Five persons have died due to heat stroke and gastroenteritis in Mahendragarh district in the last 48 hours. Man Mohan Singh (38), a shepherd of village Salkha (Jaisalmer), who had crossed the Haryana border along with his sheep, died due to heat stroke near village Lahroda where he was camping.
Ex-cop shoots himself
Cable TV on the blink
Sarkar Aap ke Dwar a 'façade'
Matric results on June 25
DELHI DIGEST
Youth burnt to death in hardware shop
New Delhi, June 16
An unidentified youth was burnt to death in a fire that broke out in hardware shop at Sanjay Gandhi Transport Nagar in North-West district early this morning.
Sanitation drive
Guru Arjan Dev
Class X certificate