Every little discharge can yield electricity
Jagvir Goyal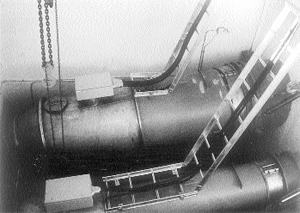 Realising the importance of production and conservation of electricity, the world today is showing a renewed interest in small hydro stations to exploit power potential of every little discharge and every small head available in running canals or distributaries. This has led to the emergence of finer technology with special emphasis on making the turbines most efficient. Turbine technology is now aiming at full automation and maximum cost effectiveness with "versatility" as the key word in the manufacturing process.
Of many types of turbines developed these days, a careful choice with respect to existing parameters may lead to innumerable benefits during the running of hydro stations. The factors that we generally look for while selecting a turbine are :
1. High efficiency.

2. High productivity.

3. Maximum cost effectiveness.

4. High output.

5. Minimum staff requirements for running.

6. Least running, maintenance and spares costs.

7. Least cost of connected civil works.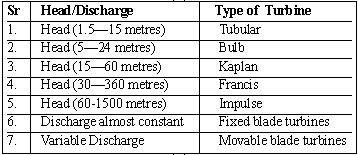 Choice of the turbine to be used for a given discharge, given head and possible variation in discharge is to be made to achieve the above factors to maximum possible extent. Among discharge and head, it is the head that governs the selection of turbine while the discharge determines the capacity of turbine. Momentary rise in speed of turbine on sudden reduction of load from full to zero and momentary drop in speed on increasing load from zero to full at rated speed are further factors to study before making final selection.
Water turbines are basically machines that convert hydraulic energy into mechanical energy. The hydraulic action divides the turbines into two classes: impulse turbines and reaction turbines. Impulse turbines convert the available energy first into kinetic energy through one or more nozzles throwing free jets of water on runners and making them rotate. In reaction turbines, the entire flow from head race to tail race takes place in a closed conduit system and only part energy is available while most of it remains in form of pressure head. Impulse turbines are used when the head available is very high i.e. 60 metres or above. Reaction turbines are used for lower heads though one of their kinds ( Francis Turbine ) can also be used for high heads.
Keeping in view the head and discharge available and the variation in discharge and load, specific speed and efficiency of the turbines is determined and the turbine is chosen. More is the head available, lesser is the specific speed of turbine. It is always tried that turbine with highest possible specific speed is chosen. High specific speed leads to reduction in cost of turbine and lends high rotational speed thus helping in keeping the size of turbine, of generator and thus of power house smaller. However, specific speed cannot be increased indefinitely as very high speed may result in chances of cavitation.
While the Pelton, Turgo and Crossflow are Impulse type turbines, Francis Turbines, Propeller turbines, Bulb Turbines, Vertical Kaplan Turbines, and Tubular turbines fall under Reaction Turbines category. Till today, Francis, Vertical Kaplan and Bulb turbines have ruled the scene. These days, Tubular Turbines are also making their presence felt because of their simplicity, easier erection and operation and handling of ultra low heads.
Bulb Turbines have a horizontal axis and their runners are directly connected to the generators which are located in water tight enclosures called bulbs. These turbines carry the advantage of having a straight flow resulting in higher velocity and thus higher discharge for a given runner diameter. They have higher specific speed and runner diameter is about 15% lesser than Vertical Kaplan turbines. That is why these are increasingly being preferred. However, the hydraulic losses in these turbines are more in comparison to other turbines. Another minus point of bulb turbines is that their machine failure rate is higher. This is because the thrust of axles on bearings is excessive in this type of turbines. This is the reason that many of these turbines are found under-performing these days.
In Vertical Kaplan Turbines, the axis is vertical and thus there is hardly any pressure on bearings. Therefore, their failure rate is low. Their cost is also comparable to that of Horizontal turbines. Their minus point is that they need a spiral development and direction of flow changes many times thus resulting in slightly higher diameter of the runner. Vertical Turbines installed at Mukerian, UBDC and Anandpur Sahib Hydel Project are performing better than Horizontal turbines installed elsewhere in the state. The table given below shows some guidelines for the selection of turbines.
The above table shows some overlapping of head ranges. This range enables us to choose better of the two turbines after analysing other related factors.
Bulb Turbines and Vertical Kaplan Turbines are thus always carrying a neck to neck fight and choice between them rests on individual site conditions. In addition to cost, efficiency and output, an important point that should be kept in view is the post installation performance of these turbines.
Coming to the modern Tubular Turbines, these are integrated with the generators as water tight modules for direct installation in the waterway. Very little space is required for their installation. Entire machine module can be placed underground and only a small building for switching equipment and automation needs to be erected above the ground. The wicket gates and propeller blades are fixed type. For generation up to 500 KW, turbine and generator are linked to the same shaft and no gear box is used. The cost of civil works is minimal. For higher generation, several gear driven generators are grouped around the turbine.
In Switzerland, a small size plant of just 12 KW with an ultra low head of only 1.4 metres and water flow of 1.5 cumec has been commissioned. In Finland, five compact units, each of only 33 KW operating at a head of only two metres have been installed. The message is clear that these countries are determined to make use of every small fall and discharge by using tubular turbines which are perfectly suitable for such small heads.
India has so far shown much inclination towards Bulb or Vertical Kaplan turbines only. Reason for this is that mere data projection by the turbine manufacturers lends no confidence to the end users. It is the 'proven track record' that clicks to the mind and transforms the thinking process. Another reason is that our cash strapped developers and hydro station owners can't afford to take chances or bear experimentation costs. Sometimes this slow adoption of technology has carried a blessing in disguise as the teething troubles are overcome by the foreigners and technology is perfected by the time India adopts it.