Right call for graduates
Umesh Ghrera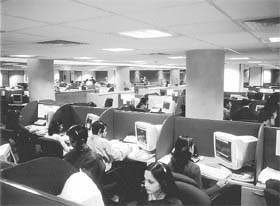 Brevity may be the soul of wit, but for these youngsters being voluble pays. Barely out of college, they ooze with confidence, have excellent communication skills and can attend to customers, hours on end, by making and attending phone calls. And why not. They are paid handsomely for this. Little wonder then that an increasing number of fresh graduates are eyeing the service sector — customer care, banking, insurance, finance, sales, etc — nowadays . At a time when finding a job is like looking for a needle in the haystack, the service industry, particularly call centres, have come in as a boon and is growing at a fast pace. Since retaining existing customers is cheaper compared to finding the new ones, companies outsource their services to call centres to look into the customers' queries and complaints.
According to industry sources, nearly 70 per cent of the new jobs are in the service industry. "The best part is you do not require mega qualifications, but the right qualifications, to gain entry into this sector. What you need is an excellent communication skill, patience to listen, commitment towards work, the right attitude, fluency in English, willingness to work at odd hours and the ability to handle stress," says Mr Baljit Singh, director of a training and recruitment centre, Antares Services Pvt Ltd, Sector 34, Chandigarh.
There are a large number of training centres where candidates, selected on the basis of walk-in interviews, are imparted training to make them suitable for jobs in the service industry. The duration of the training varies from six to eight weeks.
Mr Baljit, however, cautions against fraudulent call and training centres, which are out to make a quick buck. He says training is at its infancy and the industry is gradually maturing. So do check out for the authenticity of the training centre before applying. The fee varies from Rs 7,000 at an average training centre to Rs 20,000 in the more reputed ones.
At the end of the training programme, candidates are given internship and performance certificates, on the basis of which they can hunt for a job. A majority of the training centres have tie-ups with call centres, which in turn help you find a placement.
However, finding a job is not as simple as it may sound. It is deceptively simple. According to the sources, only 3 per cent of those who apply for such jobs are able to find one. They say not more than 50 per cent of those trained at various centres are able to find jobs even though big and bold advertisements released by such centres claim full placements. The prime reason is that call centres recruit youngsters who have particular skill sets. In fact, there is only a small talent pool available for international call centres since it is here that one has to handle a more demanding and aggressive set of customers. However, those working in call centres are always under a scanner. All their conversations are taped.
Says Ms Neeti, a counsellor with Placement Consultants, Sector 17, Chandigarh, " Call centres can be broadly classified into two types—international and domestic. While the former deal with foreign customers, the latter is where domestic customers can call up regarding their problems pertaining to products, sales, services, etc." Normally, domestic call centres have day shifts, while international call centres have night shifts mostly and a majority of them work round the clock.
In Neeti's opinion, call centres are a good option for fresh graduates and can be taken up as a full-time profession. The work environment in such centres enhances their personality and gives them know-how about the lifestyle and the work culture abroad.
Among the leading call centres are GE Capital, Daksh, EXL, Convergys, Wipro Spectramine and HCL.
More than the thrill, what draws youngsters to these call centres are the prospects of handsome pay-packets, which grows rapidly as one gains experience. While a fresher working at an international call centre in Chandigarh can hope for a start of nearly Rs 6,000 to Rs 8,000 plus incentives, in New Delhi one can expect anything between Rs 8,500 and Rs 12,000 plus incentives. The starting salary at domestic call centres is between Rs 3,500 and Rs 5,000 plus incentives in Chandigarh and between Rs 4,500 to Rs 6,000 plus incentives in New Delhi. However, based on performance, one can expect anything around Rs 20,000, within a year's time.
In Chandigarh alone, there are nearly 1,000 jobs at international call centres and 250 to 300 jobs are created every month. The number of jobs in domestic call centres is much higher at around 6,000.
A call centre training course can take you places. Starting as a call centre executive, you can reach the position of general manager or even chief operating officer.
However, despite this parents are still hesitant to send their children for such jobs, mainly because of the odd and long working hours. The sources say nearly 65 per cent of the workforce at the call centres comprises girls and had it not been for parental dithering, the percentage would have been much higher. The reason being attributed for this is that girls are good communicators naturally and are brought up in society in such a way so as to be good listeners.