ARTSCAPE
Devoted to music, her work unites her with the Master
Garima Pant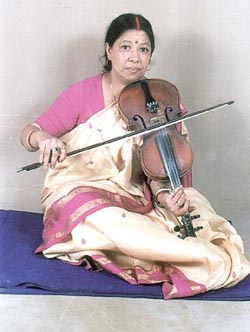 Music for her is a form of devotion. Her music takes her close to the Master. Her practice sessions transcend her into an altogether different world. Mrs Swagata Ghosh, a versatile artist of Hindustani Classical Music of the present generation, is from an immensely rich musical background. Her grandmother, Mrs Uttara Devi, herself a renowned kirtan singer of West Bengal, initiated her into vocal and instrumental music at a very early stages of her childhood.
Her father was also an ardent music lover and prompted her and her two sisters into learning this art. She gave her first public performance in violin at the age of 7 years when she won the All India Music Competition in Allahabad in 1958. She continued to maintain that winning streak in the subsequent years in various competitions including Rajasthan Sangeet Natak Academy, Bikaner and All India Radio Competition, Lucknow.
She holds a 'Sangeet Nipun' with distinction from the Bhatkhande College of Hindustani Music. She began her training under the late G.N.Goswamy, a renowned violin exponent. Later, she was attracted to playing violin in Gayaki Andaaz and Thumri style of Dr N. Rajam, the pioneer of this style, and began refining her talent under her guidance, a practice she is still carrying on with.
She rates her performance at the 'Haridas Sammelan' in Mumbai as one of the best.
She is also thankful to her husband for being "supportive" in all her activities over the years.
"Though my husband, a professor at IGNOU, has no direct contact with the field of music, has given me ample support in pursuing my hobby. He has stood beside me and it is because of him that I have managed to fulfill so many roles at the same time."
She has performed throughout the country and abroad and has been a regular with the All India Radio since 1972. The 'Sur Sringar Samiti' from Bombay honoured her with the title of 'Surmani'.
Looking back, she says, "it feels good that people know you and recognize you because of your talent. Although I had wanted to do more, I am happy with whatever I have received and the way I have managed the role of a performer, a wife and a working woman."
On the current trend of fusion music, she says, "classical music also has lightness associated with it. It is not always true that traditional classical music is very heavy and not understandable. People who play classical music first begin by playing the traditional heavy form and then slowly and gradually descend to the lighter versions."
Her special style of playing the instrument by integrating the 'Gayaki Andaaz' is not only soothing but puts her in a different league from the rest.
Landscapes unveiled at Re
Painting was his first love and after a gap of many years, he now plans to return to it.
Bansi Kaul, an acclaimed artist, will be unveiling his new monochrome series Landscapes at RE, Shahpur Jat. The series titled, 'Windmills of My Mind,' done on an extended trip to the interiors of India, presents the country in an amazing study in contrasts. And for this artist who started his career as a painter in Kashmir, the beautiful landscape has stayed firmly protected in his subliminal self and traversed with him in his work in theatre.
He is also known as one of the foremost theater directors and stagecraft designers of the country. His paintings will be on display at RE from June 20 till June 30.
The Many Colours of Summer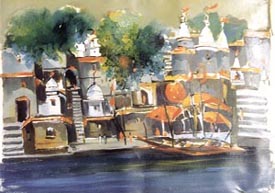 A painting of Dilip Das Gupta exhibited at the PBC Art Gallery.
A group show of paintings titled, "The Colors of Summer," will begin at the PBC Art Gallery from June 19 and continue till July 10. Curated by Ram Nawal Singh, the participants include artists such as Dilip Das Gupta, Harendra Shah, Bikash Poddar, Ajay Kumar Sameer, Vigyan Vrat, Apurba Majumdar and K. Balamurli.
The timings of the show are somewhat different as the paintings are on display from 9.30 am to 12.30 pm and from 3 pm to 7 pm.