HAMARA SCHOOL
RYAN INTERNATIONAL SCHOOL URBAN ESTATE
Where kids are assessed through project
work, not exams
Deepkamal Kaur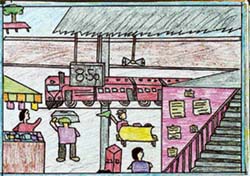 Prabhjot Kaur, Class VII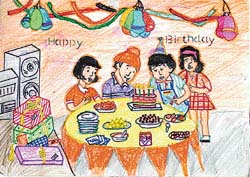 Pratibha, Class IV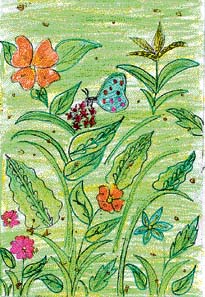 Parul, Class V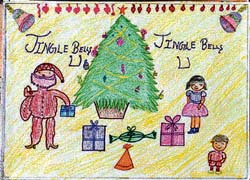 Ashima Arora, Class VII
UNLIKE other schools of Ludhiana, there are no examinations for the students of Ryan International School, Urban Estate, till they reach in Class V. Evaluation of performance of students is based on project works as the authorities believe in cultivation of all three dimensions of mind, body and spirit and not on cramming for examination purpose. Assessment of the students is done on the basis of classroom performance and simple strategic testing at short intervals. However, for students of Class V onwards, performances and improvement in performance are recognised and rewarded.
The school aims at making education more participative and enjoyable and believes that most of the schools have a system of torture as children are overburdened with a vast curriculum and loads of homework. However, at Ryan, home assignments are oriented towards honing individual talents as they include suggested books for reading, physical and sports development, general knowledge, civic responsibilities and talent cultivation. Talents are channelled into creative fields such as oratory, dramatics and media communications. All kinds of facilities are then given for grooming the potential of such children.
Within one year of its inception, the school has over 900 students on roll and a qualified and experienced team of teachers, who not only simply impart knowledge and facts but arouse their studentsí curiosity and interest, enabling them to pursue things for its innate value. The school complex, spread over an areas of four acres on the Chandigarh Road, has spacious classrooms and playrooms that have been tastefully decorated for the little ones. Various sports facilities such as swimming pool, badminton lawn, basket ball and volley ball courts and skating rink are coming up.
Stress is being laid on cultural activities such as drama and dance. The school recently held its first annual day function for which artistes from Russia, Poland and Kazakhstan were in the school to train students in foreign arts. Yoanna Ponikiewska from Poland trained the students in Krakowiak dance, a traditional folk dance from South Poland, and Gulnar Kazbekova from Kazakhistan helped the students learn traditional Kazakh folk dance Atatolgay, Russian dance Kostoroma.
A special counselling session for parents of newly admitted students to Montessori was also held in April when the new academic session started. Mr George Judan, a professor of management from Pune, had been especially invited to address the parents. Later in the evening a graduation ceremony was also held for the passout students of Ryan Montessori. All students dressed in gowns with hoods received certificates from Ms Grace Pinto, Director of the Ryan International Schools chain.
The school has also been holding counselling sessions for middle class students educating them about adolescence-related issues. A Open House is yet another forum where the parents are made aware of strengths and shortcomings of their children and at the same time getting positive suggestions from them on how to improve academic and overall performances. Besides, professionals on various subjects are invited to help them select career taking into consideration their academic performance, interests and aspirations.