A hazard going unnoticed
Biological waste is a threat to the community at large
Tejbir Singh Sandhu and Navpreet Singh
The management of biomedical waste is still in its infancy all over the world. There is a lot of confusion among the generators, operators, decision makers and the general community about the safe management of biomedical waste. Biomedical waste is generated from agriculture and food-processing industry, healthcare establishments such as blood banks, laboratories and research institutes, veterinary hospitals, abattoirs, etc.


Standards for deep burial of waste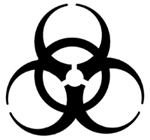 * Dig a pit or trench about 2m deep. Fill it half with waste, and then cover it with a layer of lime, before filling the rest of the pit with soil.
* Ensure that scavenging animals do not have access to the burial spots. Covers of galvanised iron/wiremesh may be used for this.
* On each occasion that waste is added to a pit, a layer of 10 cm of soil should be added to cover the waste.
* Burial must be done under dedicated supervision.
* Deep-burial sites should be relatively impermeable and there should be no shallow well near the site.
* The pits should be far from any habitation to ensure that no contamination of any surface water or groundwater sources occurs.
* Deep-burial sites should be demarcated by the authorities concerned and a record of all pits should be maintained.
Biomedical waste management is a special case wherein the hazards and risks exist not just for the generators and operators but also the general community. Hazardous waste may cause damage due to inadequate storage, transportation, treatment, or disposal operations. Improper waste storage or disposal contaminates surface and groundwater supplies. Moreover, improper disposal of municipal solid waste can create unsanitary conditions. The task of collecting, treating and disposing of solid waste presents complex technical challenges.
Agro and food-processing industries are considered the largest contributors to the total production of solid wastes. Animal industries too generate a wide variety of by-products and wastes—generated by abattoirs, butcheries, poultry processing industries, dairies, hatcheries and animal farms.
Waste can be valuable
Animal waste seems to be valueless at first instance, but it can be utilised as a valuable product after processing. Livestock waste can be characterised as high strength, low volume waste in contrast to municipal waste, which is low strength and high volume. Animal waste can occur as solids, semisolids or liquids, depending upon the design and operation of the product unit. Waste from ruminants has a different composition than that from mono-gastric animals and poultry.
Waste needs to be handled and disposed of scientifically to prevent any outbreak of disease or poisoning in animals as well as human beings. In India, animal waste is generally disposed of with least regard for public health and hygiene. It is commonly seen that carcasses are left on roadsides for municipal garbage lifters to remove. Even animal excreta and other wastes are disposed of on the streets, creating public nuisance and health hazards.
Different categories of animal waste need different treatment and handling for disposal.
Slaughter houses: Animals slaughtered for meat produce disposable waste like skin, viscera, stomach content, blood, wool, body fluids, hooves, teeth, bones, etc. Except the skin, most of these by-products are not utilised in this part of the country. These need to be disposed of scientifically to prevent contamination and spread of disease. Since there is an absence of modern slaughterhouses in India, butchers must be made responsible for the scientific disposal of the waste products at predetermined spots. Municipal authorities should have facilities for incineration of the waste. In the villages, panchayats may take similar steps for disposal in a burial ground located far from human habitation and livestock farms. These burial grounds should be high barren lands. It must also be ensured that animals do not have access to the burial sites.
Though not many meat-processing units are in operation in this region, it is necessary to incinerate rejected meat in mini incinerators located on the premises. Fluid and chemical wastes should be disinfected and released into the drainage system. Utilising animal by-products can add to the income from the meat industry. If these by-products are not effectively utilised, a valuable source of potential revenue is wasted; also, the added cost of disposal of these products is incurred by the industry. Here lies the urgent need for the establishment of organised meat-processing plants in the region.
Livestock and poultry: Livestock and poultry farms are major producers of waste. Dung and urine can be used for the production of biogas for domestic use and the residue is a good bio-fertiliser. Poultry litter mixed with loamy soil also makes good fertiliser and can be used in agriculture.
Farms: Other farm waste like dead foetuses, placenta, dead birds, etc., should be buried deep. Waste feed and fodder should be dumped in pits on farms, to be used later as manure. The milk from diseased cows suffering from mastitis should be disinfected properly with chemicals and released into the drainage system.
Milk plants: Milk plants produce a lot of by-products like whey, curdled milk and used polythene pouches. These need to be disposed of properly to prevent contamination of the plant itself. Since milk and milk products are a good medium for microbial growth, waste materials should be immediately disinfected chemically and released into the drainage system. Used polythene pouches should be autoclaved and shredded for disposal.
Veterinary institutions involved in routine pathological work and production of vaccines produce microbiological and biotechnological wastes. These are highly infectious and hazardous for both animals and humans. They need to be autoclaved, microwaved or incinerated as per requirement. Laboratory animals like mice, rabbits and guinea pigs after death must be incinerated or buried deep as per standard norms.
Enforcing rules
According to the WHO, the responsibilities of hospital and healthcare establishments include proper disposal of solid, liquid and other aqueous wastes. Waste products like animal tissues, organs, body parts and fluids, blood, experimental animals used in research, veterinary hospital waste, discharge from animals houses, etc., are supposed to be incinerated or buried. All disposables should be chemically disinfected prior to disposal.
There should be strict measures for proper implementation of the Biomedical Waste (Management and Handling) Rules, 1998, of the Ministry of Environment and Forests. Adequately trained and empowered inspectors should be appointed for successful implementation of the rules.