AGRICULTURE
EDUCATION
HEALTH
SCIENCE
CAREER GUIDE
SPORTS
HER WORLD
TRIBUNE CLASSIFIEDS
India, UAE pact on defence
New Delhi, July 1
India and the United Arab Emirates (UAE) today signed an agreement on defence cooperation and are also considering the possibility of setting up a joint working group (JWG) on terrorism and trans-national crimes.


First strategic dialogue
VB sleuths measure Badal's farm
Kharar, July 1
Continuing with the search operations, the Punjab Vigilance Bureau today carried out thorough search operations at the Continental Hatchery-cum- Poultry farm, owned by former Punjab Chief Minister and Shiromani Akali Dal President, Mr Parkash Singh Badal, at Palanpur village, 25 km from here, in Ropar district.

Nation page

Dhindsa meets Advani on 'witch-hunt' issue
Punjab page

Cops want to frame Narottam: Badal

Narottam declared fit, gets further remand

Wimpy's staff remand extended
In Health Tribune today
HOROSCOPE
THE TRIBUNE MAGAZINES
On alternate Mondays

On Sundays
On Saturdays
IN PASSING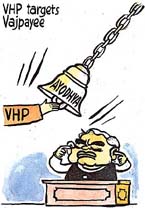 Hey Ram!!
by Sandeep Joshi
Jat faces Jats, 8 booked
Phagwara, July 1
Panchayat elections have left trail of intense bitterness in Domeli village 16 km from Phagwara, and a stand-off was emerging between two communities. A visit to the village today revealed that the shops were closed due to panic and there was tension in this remote hamlet of Phagwara Block with heavy police force deployed there.
Summon Kalyan, says Muslim Board
New Delhi, July 1
The All-India Muslim Personal Law Board (AIMPLB) today filed an application before the Liberhan Commission urging it to summon former UP Chief Minister Kalyan Singh to depose as witness in the wake of his allegations against Prime Minister Atal Bihari Vajpayee, Deputy Prime Minister L.K. Advani and HRD Minister Murli Manohar Joshi that they had "conspired" the demolition.


VHP's climbdown
4 judicial officers suspended
Chandigarh, July 1
Four Judicial Officers, including an Additional District and Sessions Judge, were today placed under suspension by the Punjab and Haryana High Court during a full court meeting held this afternoon.
Pak troops pound Dras sector
Srinagar, July 1
Hours before Pakistani High Commissioner-designate Aziz Ahmed Khan crossed over into India to take charge of his assignment, troops from across the border fired more than 100 mortar and artillery shells on the Dras sector, killing a villager and disrupting life for the second day today.


Idols missing from Pak temples
Amritsar, July 1
Many idols in ancient Hindu temples in Pakistan are missing and the government there has denied permission to install new ones in place of these.
A desolate Katasraj Temple in Pakistan, once a famous pilgrimage centre of the Hindus. — Tribune Photo Rajiv Sharma
Pak envoy arrives
July 1, 2003
Two die in poll violence
June 30, 2003
12 soldiers killed in suicide attack
June 29, 2003
Vajpayee rejects US roadmap on Kashmir
June 28, 2003
PM calls for India-China 'alliance' in IT
June 27, 2003
Pervez to end infiltration: US official
June 26, 2003
India: Tibet Autonomous Region part of China
June 25, 2003
India, China sign accord
June 24, 2003
PM's China visit to improve ties
June 23, 2003
Muslim board to seek Kalyan's examination
June 22, 2003