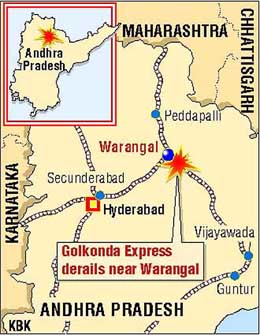 Warangal (AP), July 2
Thirteen train passengers and five occupants of an auto-rickshaw were killed and 27 injured when the engine of the Hyderabad-bound Golconda Express fell on the road below from a bridge, derailing four bogies near the railway station here today.
The toll is likely to go up as more bodies are feared trapped under the capsized engine and the bogies.
While the Railway Minister Nitish Kumar attributed the mishap to the driver's "mistake" of overshooting the red signal, railway sources here said the driver had noticed brake failure and desperately tried to move the train, coming from Guntur, into a loopline.
Two women and a girl child were among the 13 passengers killed as the engine fell on an auto-rickshaw killing five of its occupants, the police said.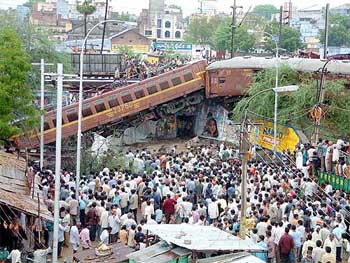 The derailed Golconda Express near Warangal station in Andhra Pradesh on Wednesday. — PTI photo
The mishap occurred at 10.25 a.m., a few yards away from the station, when the engine plunged down the road-under-bridge (RUB) hitting the auto-rickshaw and some passersby even as four bogies derailed.
"It seems the driver had ignored the signal and overshot the train resulting in the derailment," Mr Nitish Kumar told reporters in Patna, minutes after the news about the mishap reached him.
As the driver lost control after the train sped past the station where it was to halt, the engine fell from the bridge and hit the traffic below, railway sources here said.
Amid fears of casualties going up with several passengers still trapped inside the derailed bogies, gas cutters had been pressed into service to break open the windows, the sources said.
Among the injured, admitted to a government hospital here, the condition of seven persons was serious, the police said.
PATNA: Railway Minister Nitish Kumar announced a statutory inquiry by the Commissioner (Safety), South Central Railway, into today's Golconda Express mishap.
He announced a compensation of Rs 4 lakh and ex gratia of Rs 1 lakh each to next of kin of those killed.
Six officials suspended: Six officials of the South Central Railway were suspended today on charges of dereliction of duty pending an inquiry by Safety Commissioner, South Central Railway. — PTI, UNI