M A I N N E W S
Cong for quota in private sector
Prashant Sood
Tribune News Service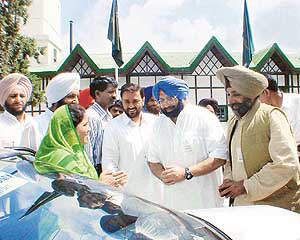 Ms
Pratibha, wife of Himachal Chief Minister Virbhadra Singh, welcomes Punjab Chief Minister Amarinder Singh outside Hotel Oberoi Cecil at Chaura Maidan in Shimla on Tuesday. — Tribune photo Karam Singh
Shimla, July 8
Reservations being the most potent weapon in the politics of social empowerment, the Congress Vichar Manthan Shivir here is looking for ways to increase the ambit of quotas as also evolve ways to trigger rural transformation.
Congress leaders have suggested reservation in employment and education to backward Muslims and adequate representation for SCs\STs\OBCs and women at various levels of the judiciary. Several leaders favoured reservation for economically backward forward classes without infringing on existing reservation for weaker sections by making suitable amendments in the Constitution.
Suggesting reservation in the private sector, the leaders called for evolving a legislation to ensure that employees were not shunted out and reservations were protected when a PSU was disinvested.
They called for providing fiscal incentive-based regime for private sector employers to encourage them to recruit from identified groups.
Separate schemes could provide for government contracts to be given to cooperatives, firms and companies whose composition reflected at least 50 per cent component of disadvantaged category. Government purchases could be prioritised in respect of these concerns, the leaders said.
Calling for a reassessment of the party's 15-point programme for minorities, the leaders called for strengthening the National Commission for Minorities, providing compensation of Rs 1 lakh to the kin of victims of communal riots irrespective of caste and religion, reimbursing medical expenditure to persons injured in communal riots and maintaining the status-quo at places of worship.
Recalling the pioneering efforts of the Congress under Jawaharlal Nehru in making reservations a reality, party leaders said that the last decade had witnessed Mandalisation of politics.
They said special benefit given to backward sections was also resulting in social tension and hostility between various castes. SCs\STs and OBCs were splitting into sub-castes because certain dominant groups were monopolising benefits of reservation.
The leaders said an estimated 250 million people were below the poverty line and growing disparity of incomes was a "powder keg."
They said about 65 per cent of irrigated land in the hands of the 10 per cent rich in the country needed to double food production by 2050 to feed 1.6 billion people.
The leaders felt that jobs in the public sector were declining and with uncertain market conditions retarding growth of the private sector, employment was likely to decline by 10 per cent in the next seven years. The leaders said that egalitarian and casteless society was threatened by the forces of communalism and narrow politically-motivated casteism.
In the discussion on rural transformation, Congress leaders blamed the BJP-led government for "maximum" suicides by farmers in the past five years and fall in the rate of agricultural growth.
The leaders called for reforms to liberate farmers from controls, enhance access to institutional credit, diversify crops and greater public investment in agriculture and rural infrastructure.
They said the BJP had mortgaged the future of farmers and the country by the position it had taken in the WTO and had gone back on what the Congress had negotiated.
Noting that 70 per cent population lived in rural areas, Congress leaders said that agricultural growth could be revived through greater public investment in irrigation, research and building a modern agro-processing industry.
Underlining the need for institutionalisation of crop planning, the Congress suggested taking a holistic view of agriculture that went beyond the traditional wheat-rice cycle and covered horticulture, floriculture, sericulture, dairy farming, poultry, fisheries and agro-forestry.
"The essential paradigm for rural transformation lies in vertical linking of Shaktikaran to Swamitvakaran to Samridhikaran through establishment of a mutually enriching nexus between the three As — Adhikar, Adhikarigan and Arthvyavastha," a senior party leader said.
The leaders called for accomplishing time-bound Panchayati Raj by 2008. They said elected representatives in local bodies should be brought into a more organic relationship with the main body of the party organisation. They suggested greater flexibilty to producer cooperatives to enable them function as companies while respecting the basic principles of cooperatives. Appealing for a lower rate of interest on loans to farmers, they appealed for changing the structure of the cooperative credit system.
They said subsidies were important for the poor and vulnerable sections. Calling for better expenditure management and increased spending on irrigation facilities, they suggested more accelerated diversification of rural employment structure and setting up of agri-business consortiums. Liberal import of edible oils had wreaked havoc on the livelihood of farmers in the southern states.
The leaders said land reforms involving distribution of land to landless and recording of titles still had great significance in rural society. They desired moving from existing system of presumptive titles to one based on conclusive titles.