Wimpy staff's kin move NHRC
Tribune News Service and UNI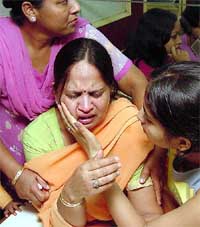 Seema Gupta, wife of R.K. Gupta, along with relatives of Wimpy's International employees, breaks down while talking to newspersons after submitting a memorandum to the NHRC in New Delhi on Tuesday.
— Tribune photo Mukesh Aggarwal
New Delhi, July 8
Relatives of Wimpy International employees moved the National Human Rights Commission (NHRC) today alleging that the Vigilance Bureau of the Punjab Government had detained their breadwinners without any charges against them.
Urging the intervention of the NHRC for securing the release of these 'innocent' employees, the relatives told mediapersons here today that the basic human rights of these individuals had been violated by the Punjab Government.
"There have been a number of irregularities with the unlawful arrests of the three senior officials and the two drivers of Wimpy's. The innocent employees were arrested without serving any charges against them and taken away to Punjab forcefully. This brazen display of brute force by Punjab Government officials has terrorised us," the memorandum said.
The five employees of Wimpy arrested on June 14 were Mr Yashpal Dhawan, vice-president, Mr R.K. Gupta, adviser finance, Mr Sanjeev Kulshrestha, deputy manager finance, and two drivers — Harijinder Singh and Devinder Singh.
The families feared that their breadwinners would be subjected to third degree treatment to sign confessional statements. They said Harijinder Singh withdrew his statement in court, saying he was being put through immense physical pressure by the Punjab police.
Mr Sukhbir Singh Badal, MP, and managing director of M/s Orbit Resorts, alleged that the Congress government was victimising political opponents, using the employees as a tool and abusing the official machinery to meet personal ends.
The case challenging the illegal detention of these employees by the bureau would come up for further hearing on July 10. The Vigilance Bureau, in the last hearing, had maintained in the court that during investigation, it had come across unimpeachable material to show that Kanwal Sidhu, MD of Wimpy international, had made huge investments in business concerns of the Badal family, especially M/s Orbit Resorts, Gurgaon, Haryana.
The bureau maintained before the Delhi High Court that the former Chief Minister's OSD Hardeep Singh, was instrumental in converting the black money of the Badal family into white with the help of Kanwal Sidhu, a London-based NRI and owner of the international food chain company Wimpy.
Meanwhile, Punjab Chief Minister Amarinder Singh today reiterated that the anti-corruption drive would go on despite strong criticism from Shiromani Akali Dal chief Parkash Singh Badal.
Meanwhile, Mr Sidhu said today that he would immediately visit India to prove his innocence and defend his staff from trial in Punjab if the Centre guaranteed his safety.
Pleading not guilty of the Punjab Government's money laundering charges against him, Mr Sidhu said from London that he had informed Britain's Foreign Office about his safety fears.
"If the Government of India promises me protection today, I am prepared to visit India tomorrow," he said.