India has largest number of hungry people
Tribune News Service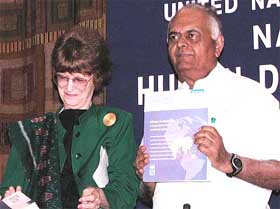 Deputy Chairman of the Planning Commission K. C. Pant releasing the UN Development Programme-commissioned Human Development Report 2003 in New Delhi on Tuesday.
— PTI photo

New Delhi, July 8
Despite impressive strides made by economy in the recent years, India continues to be the home of the largest number of hungry people. It ranks a lowly 127 among 175 countries in human development parameters, Human Development Report — 2003, launched by UNCTAD today, says.
The report, with expansive details on largely intangible development indices such as infant mortality, sanitation standards, and basic education, brings out striking facts with pointed reminders to the country's policy makers that the fundamental goal of poverty elimination may yet have remained unaddressed.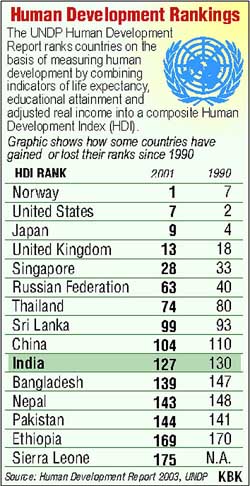 The report, which sets a goal of halving global poverty by 2015, says it can be achieved only if poor countries pursue wide-ranging reforms and wealthy nations respond with improved trade terms and increased aid.
Interestingly, in India there exists massive regional variations in the development parameters, implying that there are pockets within the country which compare with the riches (Kerala vis-a-vis USA) and parts of Rajasthan, Uttar Pradesh and Bihar which are comparable with the sub-Saharan standards.
India still has large pockets of persistent poverty that require the attention of domestic policies" the report said. "Inclusive public policies should focus on investments in health, education and infrastructure for future development", it observed.
Among the South Asian nations. India with a Human Development Index (HDI) of 0.416 is behind Maldives (rank 86), Sri Lanka (rank 99) but is ahead of Bhutan (rank 136), Bangladesh (rank 139), Nepal (rank 143) and Pakistan (rank 144).
More than half of world's population live in large inland countries that have experienced sustained growth.
The report does, however, maintain that India, home to one sixth of the world's population, has achieved great progress on most fronts. Overall poverty has been dramatically reduced and improvements have been made in education of both males and females.
In particular, it has heaped praise on the primary education policies of Madhya Pradesh and Rajasthan — two of the four BIMARU states.
"Still, a number of areas appear to have been excluded from these trends, particularly along the Pakistani and Nepalese border. Furthermore, gaps in literacy between low social classes and the rest of the population remain extremely high, particularly in the poorest states — Rajasthan, Uttar Pradesh, Bihar — and in Karnataka", it said.
The report has also expressed grave concern over the state of health of people. Largely due to widespread under-nutrition and poor infrastructure, mortality rates remain high in the poorest, rural, scheduled caste, populations, particularly among mothers and children.