ARTSCAPE
An artist making a mark with cultural crossings
Smriti Kak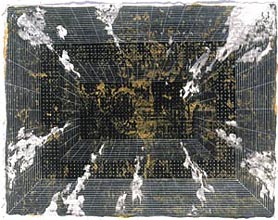 Paintings of Anil Revri have tried to draw similarities between different religions.
ARTIST Anil Revri, who has 27 solo exhibitions to his credit in India, Europe and the United States, is happy that Indian art is finally being taken seriously.
The artist who was in the city to preview his paintings, which will be on display at the Corcoran Gallery, Washington, D.C., claimed that Indian artists and art are now being recognised worldwide as "serious art and not just handicrafts".
Revri has 27 solo exhibitions to his credit in India, Europe and the United States and is all set to have his work displayed at the Corcoran between May and August 2004. "There are a set of 40 slides which will be on display, including the series titled 'Cultural Crossings' that has 18 drawings".
The exhibition will include paintings done by the artist from 1996 till the present. "The paintings done with gold and silver metallic markers and graphite are based on the idea of drawing similarities between six religions,' says Revri. The religions included are Sikhism, Islam, Buddhism, Hinduism, Judaism and Christianity.
"Cultural Crossings are based on three main themes- peace, desire-lust and greed and renunciation. It is my reaction to the political as well as religious unrest across the world," says Revri.
Revri took refuge in the power of the paint, with the quest to draw similarity between different religions and to stress that the difference between skin colours and religion is man made.
Talking about the 18 drawings that form the 'Cultural Crossings', Revri says that the first six depict semi recognisable external views of various religious buildings and the remaining 12 are geometric abstractions.
The paintings involved thorough research and took close to three years to complete. "I had to work with scholars of various languages and study a lot," says Revri, who is a recipient of many awards and grants for his paintings and graphic designs. "The paintings are meant to draw the viewers inside, they are meant to exert a pull when you see them," says Revri.
Exposing corruption in Indian politics
Satire is perhaps the most scathing attack on corruption in the society. Playwrights and actors have used their mien to draw attention to various anomalies that have crept up time and again in the society. In the Capital recently, 'Chunav Ek Murga Beeti', was staged to focus on the prevailing corruption in the Indian system.
The story revolved around two protagonists, a 'murga' (cock) and a 'murgi' (hen), whose routine life takes a turn when they come across a poster that reads, 'Murge ko vote do'.
With elections being the backdrop, the play revolves around corruption in the political system. The 'Murge', a symbol of the corrupt politician, is the victim in the end. The play directed by Rupinder Ahluwalia was staged at the India Habitat Centre.