Mohun Bagan relive a chapter in history
Amardeep Bhattal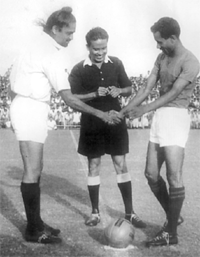 Former Mohun Bagan captain Jarnail Singh (left) shakes hands with a rival skipper prior to the start of a match. Jarnail Singh died in 2000 while on a visit to Canada.
— A file photo
Kolkata's glamour outfit Mohun Bagan are reliving a chapter in their chequered history. On July 5 in the derby clash with arch-rivals East Bengal in the Kolkata Super Division, memories of the late fifties came flooding back to the 1.10 lakh spectators at the Salt Lake Stadium. In 1959, a tall, well built Sikh with a hair knot had donned the green and maroon jersey of the club for the first time. He was the legendary Jarnail Singh, whose exploits at home and abroad are still part of Kolkata's folklore. As the only football Olympian from Punjab, Jarnail's role in shaping Mohun Bagan's destiny remains etched on the avid Bengali soccer fan's memory.
And about half a century later, on July 5,2003, to be precise, another Sikh boy with the traditional hair knot with a white handkerchief mesmerised the crowd with his neat, effective tackles, and powerful volleys. He was Punjab's Hardip Singh Saini, who switched over to the Kolkata club from JCT Phagwara this season. Incidentally, Hardip's father, Mr Gurmit Singh, and his mother are Amritdharis.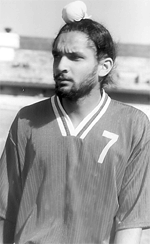 Hardip Singh Saini, who switched over to Mohun Bagan from JCT this season.
Drawing any comparison between the two would be inappropriate at the moment. Jarnail Singh had started playing for Mohun Bagan for a paltry annual contract of Rs 3500. But his stature in Indian football remains unparalled and unmatched. During his long stint in Calcutta, he was a hero, always surrounded by scores of admirers. A visit to the market place or cinema hall would cause chaos. Even a house-full board outside a theatre would be kicked aside to accommodate him. Top outfits, including Rajashtan Club, where he found his moorings, went out of the way to keep him in good humour.
Fortyfour years down the line, things are different. Hardip Saini's annual contract is about 200 times more than what the legendary Olympian earned on joining the green and maroon brigade. However, what is yet to be achieved is the aura of invincibility or fame that the late Jarnail Singh enjoyed in West Bengal and Punjab.
Three of Saini's team-mates from JCT also opted to play for Mohun Bagan this season, including striker Hardip Gill, stopper back Harpreet Singh and full back Balkar Singh. However, it is only Saini who figures in coach Aloke Mukherjee's scheme of things in the high-profile roster which includes Brazilian recruit Jose Ramirez Barreto and former Vasco striker Marcos Pereira.
Until now, the Mohun Bagan management had not shown interest in recruitment of Punjab players, and Jarnail Singh remained an exception. However, the impressive run of JCT in the National Football League over the past seven years made outstation teams to take notice of their calibre. Earlier, in the early eighties, a couple of players from Punjab played for East Bengal. They were Arjuna awardee Gurdev Singh, the late Manjit Singh and current Chandigarh Football Academy coach Harjinder Singh. Some others like former international Kuljit Singh also donned the red and gold jersey of East Bengal.
Hardip Saini was picked by the JCT management when he was still a college student about seven years back. After JCT won the inaugural National Football League title in 1996, he was drafted into the squad for the super soccer matches. According to former national coach Sukhwinder Singh, Saini, who made his debut against East Bengal at Goa when many players had been summoned for the national camp, was sincere and hard-working. He made an immediate impact and when JCT won the Rovers Cup in 1997, he was declared the best player.
Before joining JCT, Hardip Saini represented Guru Nanak Dev University in the Inter-University Football Championship organised at Panjab University, Chandigarh.
For the past few years, Hardip Saini remained a regular member of JCT in all major tournaments, including the high-profile National Football League. His perfect ball control, intelligent distribution, and accurate long rangers often spelt doom for well-known outfits. Extremely media shy and modest, Hardip Saini has seldom been seen arguing with the referee. During his stay in Punjab, he represented the state in the 31st National Games and helped his team to win the gold in the pulsating final against Goa at Ludhiana's Guru Nanak Stadium.
Reminisces Mr Sital Singh, physical training instructor at Guru Nanak College, Phagwara: "Hardip Saini remained with us for three years and was a fast learner. He made a valuable contribution and for two years consecutively, our team won the Guru Nanak Dev University Inter-College Championship. He was later picked in the university team for the Inter-University Football Championship played in Chandigarh after which he was selected in the JCT team which he represented till last season."
A few years back, Saini was also picked in the Indian team which toured England.
Sports runs in the Sainis' blood. Hardip's father, Gurmit Singh, was also a footballer. Last year Hardip's sister was adjudged the best athlete of Guru Nanak College, Phagwara.
Given his experience and young age, Saini seems destined to leave a lasting impression on the maidan, though it may not be as well defined as the late Jarnail Singh's image.