Metallica — St. Anger
(Universal) **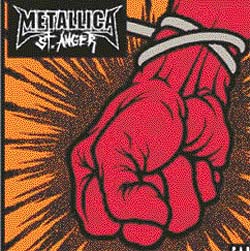 It's been a roller-coaster ride for the band. Afterall its not easy being Metallica. It took a nine-week spell in rehab for singer James Hetfield, and the loss of bassist Jason Newstead, for the world's greatest Heavy Metal band to come to terms with what they truly are.
St. Anger marks a return to Metallica's earlier, more brutal, style of songwriting — fast, angry, loud and furious. With lyrics such as "I need to set my anger free" or "My lifestyle determines my death style", you know what to expect. Some Kind of Monster is one of the heaviest songs Metallica has recorded since 1986's The Thing That Should Not Be. The title track sounds interesting with a spectacular opening and conclusion. Unmistakably the most ferocious album opener since Blackened, Frantic begins with an extended intro of Ulrich's machine-gun drumming and James and Kirk Hammett's staccato guitar riffs. This is metal in its purest form.
Suzanne Vega —Retrospective- Greatest Hits
(Universal) ***
It's been fifteen years since the New York singer-lyricist emerged on the music scene with her debut self-titled album. With five studio albums and one best of collection so far, Vega is arguably one of the most prolific music artists in the industry. The magic of Suzanne Vega is that her songs don't attack your ears. Instead, you actually surrender to the mysterious and intelligent compositions. Retrospective spans Vega's career right from the 1987 Pretty In Pink soundtrack tune Left of Center. Vega's commercial breakthrough came with her next album, Solitude Standing, with the scintillating anti-child abuse standard Luka and the capella Tom's Dinner. They are both here, along with the 1992-mega hit 99.9F. The early years are further represented by the moody Marlene On The Wall, the contemplative Book of Dreams and the wide-eyed Small Blue Thing. Other highlights include the simmering techno-pop Blood Makes Noise and her very fine post-divorce (I'll Never Be) Your Maggie May. Welcome back, Suzanne — it's good to hear from you again.
Gareth Gates — What My Heart Wants To Say
(Crescendo) **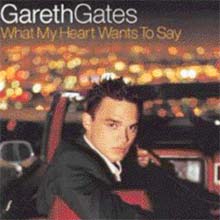 UK's new pop sensation Gareth first attracted attention as one of the finalists in the UK Pop Idols show, and since then he has more than proved his mettle as a pop star of gigantic proportions. Gareth's music is easy to relate to, easy on the ears and lyrically soothing. His debut single Unchained Melody spent four weeks at number one in the UK and has sold more than 1.2 million copies. Next up is the catchy Anyone of Us (Stupid Mistake) which has already enjoyed the number one spot on South African radio. This debut album boasts of hefty 16 tracks, all arranged to an impressive effect. There's also the Elvis super classic Suspicious Minds, and the captivating title track What My Heart Wants To Say. The other songs to watch out for are the slow and easy Sentimental, Too Serious Too Soon, With You All The Time and the echoey One & Ever Love, which offers awesome strings. Gareth is surely going to reach enormous heights, provided he starts working on more mature material soon.
Album of the month
Train — My Private Nation
(Sony Music)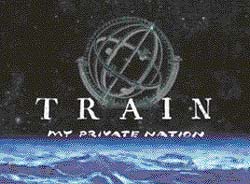 Eversince Train arrived on the music scene in 1996, it has been rolling out huge hits. After the super success of the Grammy-winning Drops of Jupiter, the band is back with its third album My Private Nation. Through each song on the album, the band examines the world's lack of direction and artificiality and urges people to follow the path of peace. The opening track Calling All Angels, which also serves as the first single, is wrapped with simple acoustic melody and signifies what the rest of the album is all about. All American Girl focuses on pop culture.On Lincoln Avenue, Train sheds off Counting Crows resemblance and wears a Queen-like outfit. Spin it loudly on the stereo and let the healing begin.
— Saurabh & Gaurav


The Grrr…eat Music Zone Quiz
1. In which Marc Anthony video did his father featured?
2. What does India Arie compare herself to on the track Brown Skin?
3. Name the band that Craig Armstrong co-founded?
4. Which rapper collaborated on Ashanti's So Into You?
5. What was Aaliyah's middle name?
6. According to Billboard Magazine, Chuck Berry only had one Number 1 hit. Name it.
7. Who originally sang Stewart's Coat before Michelle Branch covered it?
8. Toni Braxton made her debut with what song?
9. What novel did the Bronski Beat derive its name from?
10. Name the latest Foo Fighters video.


Answers
1. You Sang To Me
2. An Almond Joy
3. Texas
4. Fabulous
5. Diane
6. My Ding-A-Ling
7. Rickie Lee Jones
8. Love Shoulda Brought You Home
9. The Tin Drum
10. Low
Top 10 singles
1. This Is The Night Clay Aiken (CU)
2. Crazy In Love Beyonce feat. Jay-Z (CU)
3. Get Busy Sean Paul (FD)
4. Unwell Matchbox Twenty (NM)
5. 21 Questions Lil'Kim feat. 50 Cent (FD)
6. Rock With U Ashanti (CU)
7. Flying Without Wings Ruben Studdard (NM)
8. Right Thurr Chingy (NE)
9. When I'm Gone Three Doors Down (FD)
10. Calling All Angels Train (CU)
(CU): Climbing up (FD): Falling down
(NM): Non-mover (NE): New entry