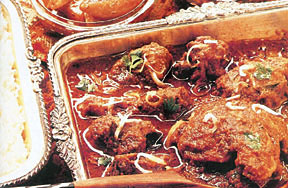 Awadhi cuisine is normally prepared using the dum style of cooking
The bawarchis and rakabdars of Awadh gave birth to the dum style of cooking or the art of cooking over a slow fire, which has become synonymous with Lucknow today. Their spread would consist of elaborate dishes like kebabs, kormas, kaliya, nahari-kulchas, zarda, sheermal, roomali rotis and warqi parathas. The richness of Awadh cuisine lies not only in the variety of cuisine but also in the ingredients used.
Lucknow is also proud of its Kebabs. The Kakori Kebabs, Galawat ke Kebabs, Shami Kebabs, Boti Kebabs, Patili-ke-Kebabs, Ghutwa Kebabs and Seekh Kebabs are among the known varieties. The 100-year old 'Tunde ke Kebab' in chowk is the most famous outlet for choicest Kebabs even today. The Shami Kebab was the most important of them all. Made from mince meat, the kebabs are round patties filled with spicy surprises and the tangy raw green mango. The best time to have them is May when the fruit of the mango tree is in its infancy. In other seasons the kairi can be substituted with kamrakh or karonda both having a tart flavour reminiscent of the raw mango. Lime juice is rarely used.
The seekh has long been considered a piece de resistance in the Awadhi dastarkhwan. Introduced by the Mughals it was originally prepared from beef mince on skewers and cooked on charcoal fire. Now lamb mince is preferred for its soft texture.
Korma a preparation of meat in gravy was an essential item of the Awadh dastarkhan. 'Biryani' was yet another item cooked in Dum style. The method imparted a typical Awadhi flavour to this rice preparation. The warqi paratha and sheermals are other sumptuous dishes of Lucknow that are simply a gourmet's delight.
Shah Deg, a winter specialty, is a legacy from Kashmiri settlers in the province. Jauzi Halwa Sohan, another winter delicacy, has dewdrops on wheat kept outside for a night as an essential ingredient. Zarda, a rice dish, is a picnic delicacy of Vasant (spring) when Wajid Ali Shah and his troupe would go dressed in yellow, the colour of spring in boats called bajras. Kundan Kaliya is a mutton dish prepared with gold leafs, no less!
Dastarkhwan, a Persian term, literally means a meticulously laid-out ceremonial dining spread. It is customary in Avadh to sit around and share the Dastarkhwan. Laden with the finest and the most varied repertoire of the khansamas (chefs), the Dastarkhwan of the raeis (the rich) were called Khasa (special).
Shami Kebab was what any dastrakwhan worth its name would consist of in the month of May when the mango was still raw (kairi). Nehari kebab is a post rain delicacy seasoned with mustard oil buried for nine months in a mud pot under a tree and opened after the rains. The mustard plant is harvested in February and March.
In Awadh the mustard oil is heated in large cauldrons till it smokes. Then it is passed through muslin cloth to remove any impurities. This oil is then collected and sealed in large earthenware pots or urns and buried in the earth, preferably under the shade of a tree or a cool place. It is left to mature for a period of 9 to 10 months, i.e. through the rainy season so that the oil is further cooled when the rain water seeps into the ground. Then it is dug up and is ready for use. The long period of underground storage transforms the oil to a granular texture which is used for cooking purposes.
An unusual offering is the Pasanda Kebab, picatta of lamb marinated and then saut`E9d on a griddle.
Nahari, a hot favourite of Awadh is a meat preparation with thick spicy gravy. In 'Pai ki Nahari' leg and other bones are cooked and bone juice is mixed with a mouth watering gravy.
Winters are dedicated to halwas of all kinds which came from Arabia and Persia to stay in India. There are several varieties of these, prepared from different cereals, such as gram flour, sooji, wheat, nuts and even eggs. The special halwa or halwa sohan which has four varieties, viz Papadi, Jauzi, Habshi and Dudhiya is prepared especially well in Lucknow.
The Jauzi Halwa Sohan is a hot favourite even today, but the art of preparing it is confined to only a few households. Prepared for the most part from germinated wheat, milk, sugar, saffron, nuts etc., it has love and patience as its vital ingredients. You need to appreciate the play of shabnam or dewdrops on the wheat kept out under the night sky for germination. For the rest the role of the morning sun and evening dew may remain a mystery.