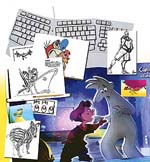 Suspended animation
Peeyush Agnihotri
WITH the din about a tech slump relegated to the background, babies continue to arrive in the Indian IT nursery ever since the world discovered India's competence in the field of chips and bytes. This nursery has nurtured hardware techies, dotcommers, software geniuses, BPOs and call centre talkers. While many of the wards have gone on through teens to maturity, the kindergarten is not vacant. Among the fresh arrivals are animators.



Animation takes on CGI movies
Bob Tourtellotte
CGI movies? What CGI movies? The curtain rose on DreamWorks' animated 'Sinbad: Legend of the Seven Seas' last weekend and DreamWorks co-founder Jeffrey Katzenberg wants audiences to know this latest film voyage of the sailor man has as much hi-tech wizardry as any movie he has ever made with computer generated images, or CGI. Even smash hit 'Shrek.'

Reverse brain drain
INDIA'S brainpower may very well be the most valuable import to the US with hundreds and thousands of educated Indian professionals working in the technology industry in the world's largest economy. But the decades old "brain drain" phenomenon may reverse soon with top end US-based global technology giants planning to recruit heads of their Indian operations from within the US technology industry.

Store data first. Use it later
Ranjit Singh
THE basic idea behind the concept of warehousing is to store resources to use them later. The same concept has been adopted by the computer world. Since the time automation became the keyword in most organisation, database started playing a major role. However, the sad part of the story is that in many organisations, despite the availability of powerful computers and high-speed networks, all officials of the organisation cannot access most of the data.

Saying it with virtual flowers
TWO students of a Tamil Nadu engineering college have come up with a prototype for a fragrant e-card that will carry the perfumes of India worldwide by just the click of a mouse. Named ESTER, the card concept was presented by K. Sowmya and V. Viswadhara Meenakshi, at an Institute of Electrical and Electronic Engineers' Association conference on consumer electronics held in Los Angeles, USA.

IT WIT
by Sandeep Joshi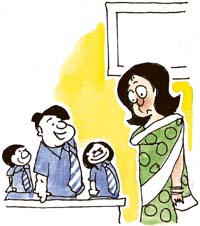 Madam, I have uploaded the homework on my personal Website.

CD piracy hits music industry
Bernhard Warner
MORE than one billion illegally copied compact discs were sold last year, the latest sign that the beleaguered music industry is failing in its bid to wipe out piracy, a new industry study said. In 2002, the sale of pirated CD copies rose 14 per cent to 1.1 billion units from the previous year and has more than doubled in the past three years, turning a street-corner trade into an estimated $4.6 billion business, the International Federation of the Phonographic Industry (IFPI) said in its annual piracy report.


Hi-tech robots imitate insects
T.V. Parasuram
TECHNOLOGICAL advances unimaginable few years ago are now a reality with researchers in the US working on devices like bullet-detecting radars and robots which can climb walls and run over rough terrain, in an attempt to combat hi-tech terrorist threats.

ERP solutions for better management
Naveen S. Garewal
HIGHLY competitive and fast paced economic environment has forced many small and medium enterprises to adopt technology to improve business performances. Enterprise Resource Planning (ERP) or customised software solutions has therefore become invaluable asset for most of the companies who give due consideration to product quality, cycle time, cost, continuous improvement and organisational excellence.

The Indian Call Centre Industry


Illustration by Sandeep Joshi
Stress hits executives
Madhuri Sehgal
"THESE days large number of young people in the age group of 18-21 years are seeking counselling and out of that 10 - 15 per cent cases are those who work in call centres", says Dr Jitendra Nagpal, Consultant Psychiatrist, Vidyasagar Institute of Mental Health and Neurosciences (VIMHANS) here. "Burnout Stress Syndrome or BOSS syndrome is seen commonly among youngsters working in call centres. The symptoms of this syndrome include chronic fatigue, insomnia and complete alteration of 24-hour biological rhythm of the body", says Nagpal.
Roll your Ls and keep T well pronounced
Anuradha Varma
RUBY Anderson is hard at work with her clients. Her colleagues are similarly engaged on the phone, speaking with decidedly American twangs and dressed in "hyper" casuals — T-shirts, bandannas, with some even flaunting tattoos on their arms. A scene from New York? Nah! It's New Delhi.
High attrition rate stares at industry
Smita Mitra
AMID growing opposition to outsourcing technology jobs to Indian firms, the local back office services providers are also battling with a serious issue back home - high attrition levels. According to a study conducted last year, some of the larger and more established call centres in India are experiencing a 40 per cent attrition rate, compared to the global industry average of 28 per cent.
Movie on cards
Maria Abraham
A London-based film company is planning a comic love story in which employees at a call centre in India pretend to be English while helping out British customers. Harbour Pictures will produce the film, for which director Nigel Cole will begin shooting next year. The two had earlier teamed up for "Calendar Girls", which created a buzz at the Cannes Film Festival two months ago.