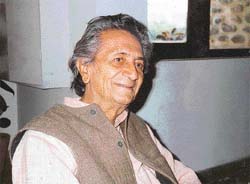 A befitting tribute to Bhisham Sahni would be to screen Tamas at the forthcoming international film festival in Delhi

But while Shimla was my first encounter with Sahni in person, it was many years before that I received his biography of his brother Balraj Sahni which came out after Balraj's death. It came with a little note from Bhisham, asking if I would care to review it. Apart from the fact that Balraj was one of the finest actors who has ever graced the Indian cinema, he had been a warm personal friend and Bhisham's quiet tribute to his brother was something which was very much worth reviewing.
To return to Tamas. Govind Nihalani, who was present at Bhisham's funeral, as was Balraj's son Parikshit, has already recounted how he was wanting to make a film on some burning social issue and once he had read Tamas, which he found difficult to put down, he went ahead with the film which starred, among others, Om Puri and Surekha Sikri. It was almost a documentary account of the grim flight into India, done with Bhisham's gift for meticulous detail and high emotional content and also cameraman-director Govind Nihalani's exceptional talent and sympathy for the topic. I think it will be a fitting tribute to both if Tamas is shown during the forthcoming international film festival in Delhi. And, incidentally, two other film greats, Gregory Peck and Katherine Hepburn, should also have retrospectives in the festival.
Changing the subject. With a wide variety in settings and in those interviewed, Shekhar Gupta's Walk the Talk on NDTV English is going from strength to strength. His chat with Hockey Star Dhanraj Pillay brought into focus the long-neglected sport of hockey, once India's most popular and internationally successful sport, which had been ousted from adequate TV coverage by cricket. That Pillay should have come before Tendulkar and the rest on the programme, together with the hockey team being received and congratulated by President Abdul Kalam and then the sponsorship by Sahara ought to do a world of good to hockey and restore it to its former position. And TV can play a major part in this. For starters, Doordarshan as well as Star Sports and ESPN should give hockey the coverage it deserves and stop their obsession with cricket at the expense of all other sports. Compare, as Shekhar Gupta's programme revealed, the miserable daily allowance of 20 dollars per day given to Dhanraj Pillay when abroad with the lavish lifestyle of our cricketers when they go outside the country.
Tailpiece: That newscasting has more to it than pretty faces was amply demonstrated by Headline India's faux pas on Monday afternoon. Sweet young thing Avantika was reading everything with a fixed smile, including Kaziranga. The headline had mentioned that Indiadecision about sending troops to Iraq "will be announced today." While the bulletin was on, the news came through that the decision had been made. And this is how Avantika, who does not have a clue as to which words to stress (she always picks on the wrong ones) announced it. "India will send troops to Iraq" (long pause as if the sentence has ended). Then: "Only under the auspices of the United Nations". When the headlines came on again at the end, they said: "India will decide today whether to send troops to Iraq". So the headlines had not been updated although the decision had come in the middle of the bulletin nor had the newscaster noticed the change. Sab Se Tez?