Entrepreneurial skills to be taught in schools
Our Correspondent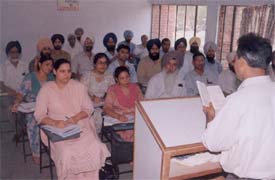 Teachers of vocational studies from government schools attend a workshop on entrepreneurship development at Government Model Senior Secondary School, Punjab Agricultural University, Ludhiana, on Thursday.
Ludhiana, July 24
A general foundation course (GFC) in 'entrepreneurship development' and 'environmental education and rural development' will be introduced as a compulsory course in the current session for class XII students in government senior secondary schools of the state offering vocational education.
The course is aimed at bringing in diversification of educational opportunities so as to enhance individual employability, reduction of mismatch between demand and supply of skilled manpower and providing students aimlessly pursuing higher education with an alternative. The course is being introduced under a scheme for the vocationalisation of secondary education.
This information was given by Dr Vipin Kumar Jain, Project Coordinator, PSS Central Institute of Vocational Education, a constituent of National Council for Education, Research and Training (NCERT), on the concluding day of a 10-day state-level workshop. This workshop on 'Training programme for vocational masters and lecturers of Punjab on entrepreneurship development' concluded at Government Model Senior Secondary School, Punjab Agricultural University, here today.
Dr Jain said the course would aim not only at training students for acquisition of skills, attitudes, understanding and knowledge related to a specific vocation but also at making them aware of environment's relation with development. It would also aim at visualising and appreciating entrepreneurship as an alternative career, besides developing the spirit of self-employment, motivation and competencies needed to initiate, launch and sustain it as a career, he said.
The 10-day programme was attended by 27 teachers of vocational education from all over the state. Resource persons delivered talks on ways of developing initiative, pouncing on opportunities, concern for innovative quality efficiency, problem solving, systematic planning, information seeking, persistence, influencing, persuasion, assertion, self-confidence, commitment to work and other traits that they said were must for developing entrepreneurial competencies.
Institutes like the Small Industrial Service Institute (SISI), Science and Technology Entrepreneurs' Park (STEP), District Industry Centre (DIC), Guru Nanak Engineering College, Punjab Agricultural University and Punjab National Bank were asked to send their representatives for holding discussions with the participants.
Mr Surinder Bir Singh, Professor and Head of the Department of Mechanical Engineering, Guru Nanak Engineering College, spoke on marketing management for small businesses. Mr A.K. Bansal, Senior Manager, Punjab National Bank, spoke on the role and function of commercial banks for self-employment of Punjab entrepreneurs. Mr J.S. Kolar from STEP gave a talk on writing project report for business. Mr Parveen Modi from the DIC spoke on the role and importance of a support system. The SISI was also represented by four speakers — Mr Somnath, Mr Bharat, Mr Vinay Mehrotra and Mr S.S. Bedi.
Three entrepreneurs were invited to hold discussions with the teachers. These were Mr Gursahib Singh, owner of an electroplating unit, Ms Mukta Walia, a commercial artist, and Ms Sunita Walia, a garment manufacturer. Field visits were also organised to Duke Industries, a stud farm in Gill village and the SISI office. Activities like simulations, defining action plans and interactive classroom teaching was also held. Mr R.S. Bains, District Vocational Coordinator, was the programme director.