HOROSCOPE
SC notice to Centre on HPCL, BPCL selloff
New Delhi, July 25
The Centre's decision to offload its equity in public sector oil companies — Hindustan Petroleum Corporation Ltd and Bharat Petroleum Corporation Ltd — was today challenged in the Supreme Court on the ground that the disinvestment in a crucial sector like this could not be done without the approval of Parliament.


The police tries to push back activists of the All-India Progressive Women's Association during their demonstration on the Women's Reservation Bill at Jantar Mantar in New Delhi on Friday.
— PTI
George boycott issue back to square one
New Delhi, July 25
The peace initiative of the two presiding officers of Parliament to end the logjam on the two-year Opposition boycott of Defence Minister George Fernandes went for a six today as the government turned down the Congress' demand for a discussion in both Houses of Parliament.


Editorial: Pointless boycott
In Sports Tribune today
THE TRIBUNE MAGAZINES
On alternate Mondays

On Sundays
On Saturdays
IN PASSING
by Sandeep Joshi
BJP slams Sonia on Ayodhya
New Delhi, July 25
The BJP today took strong exception to Congress President Sonia Gandhi's statement that her party would continue to press for punishing the culprits of Babri mosque demolition inside and outside Parliament.
PSEB detects 106 illegal farm connections
Amritsar, July 25
A high-level inquiry has detected 106 illegal agriculture power connections in the Majitha sub-division alone as fake connections given by Punjab State Electricity Board officials came to light.
MiG-21: pilots' families seek President's intervention
Mumbai, July 25
Members of families of pilots killed in MiG-21 crashes have sought an appointment with President A.P.J. Abdul Kalam to request his intervention in the issue of the frequent crashes of these fighter planes and prevent further loss of lives.
Badal's ancestral house raided
Nothing incriminating found; brother's place also raided
Badal (Muktsar), July 25
Continuing its campaign against former Chief Minister Parkash Singh Badal, the Vigilance Bureau officials today carried out search of his ancestral house here after securing a search warrant from a Kharar court in a case registered against Mr Badal, members of his family and other associates under the Prevention of Corruption Act.


Vigilance official, IB sleuth in verbal duel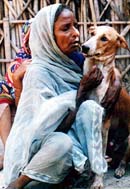 Dog sentenced to death!
Purnea (Bihar), July 25
Every dog has his day. But Chhotu awaits his doomsday! The people of a locality bayed for his blood, claiming that Chhotu had bitten 50 of their fellow human beings and the SDO, Mr Jitendra Prasad, pronounced the death sentence on him on July 15.

Chhotu, sentenced to death for biting, with his owner Janaki Devi. — PTI photo

Nation on verge of disintegration, says Chandra Shekhar
July 25, 2003
SC favours law on common civil code
July 24, 2003
Brig, 7 jawans shot dead
July 23, 2003
Ayodhya rocks Lok Sabha
July 22, 2003
BJP to make Sonia's origin poll issue
July 21, 2003
BJP tries to please Sangh Parivar on Ayodhya
July 20, 2003
BJP targets Sonia's foreign origin
July 19, 2003
BJP to mend fences with VHP
July 18, 2003
150 feared washed away in Kulu cloudburst
July 17, 2003
MiG-21 explodes
July 16, 2003