Social monitor
Why do women tolerate infidelity?
US Senator Hillary Rodham Clinton's book Living History sold more than 200,000 copies within a day of its launch worldwide. With the former first lady of the USA telling the truth about President's Clinton's love life in the White House, the issue of why even empowered women like her live with infidelity in marriage has once again acquired importance, says Vimla Patil.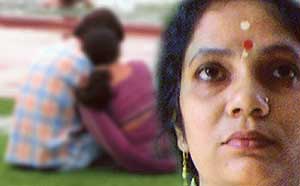 HILLARY Clinton is an American woman. Which means that she is a citizen of the world's richest and most powerful democracy, where the constitution gives equal rights to everyone. She is highly educated. In fact, she is a very successful lawyer by profession. Added to this is the fact that she is an internationally acknowledged woman, who is presently a powerful senator in the US House of Representatives. She is financially independent. She is the wife of a former President of the United States. With all these incredible epithets, Hillary Clinton has, according to her recent book Living History not only accepted her husband's 'infidelity' but also the truth that he lied to her about his relationship with White House intern Monica Lewinsky! Hillary Clinton, in her television interviews following the phenomenal sales of her book, confessed that despite her initial rage, disgust and frustration, she chose to stay on in the marriage because 'Bill Clinton was not only her husband but also her President.' She said she owed him support at a time when his career was at stake!
Hillary Clinton's book and the well-publicised interviews she has given after its publication have brought the issue of infidelity into the limelight yet again. It is an uncanny co-incidence In various channels, women are shown to tolerate or even accept infidelity in their husbands, despite their anguish. Explaining this phenomenon, producers like Ekta Kapoor say, "Whenever we try to divert from the Sati Savitri image of an Indian woman, the TRPs of a serial drop instantly. Both male and female audiences in India want to see love stories where a wife remains loyal to her husband come what may and often, stands steadfastly with him despite his philandering."
Which is what Hillary Clinton has exactly done! Why have women in every age accepted infidelity from husbands with anguish or rage and then resignation? The reasons are many and strangely enough, they apply in every age, every strata of society and every country — irrespective of whether women have changed dramatically, become educated and worldly wise and even financially well off.
The first reason is perhaps the oldest one. That in every society from time immemorial, men have been expected to have relationships with more than one woman. Men are promiscuous by nature and women are monogamous by instinct — this is the theory on which human society is based. To an extent, this theory is supported by biology, which says that since the male of the species does not bear progeny, he has the propensity to look at sex as just pleasure. Whereas the female of the sex knows instinctively that she is the mother of the next generation! Therefore, she is more selective in the choice of a mate. Nature makes sure that the female of every species chooses a healthy, attractive male as the father of her offspring. Naturally women will be choosy about whom they have sex with and men will feel freer to experiment.
History as well as religious scriptures of all religions prove that men in bygone ages had the right not only to marry several wives but also to look at attractive women to satisfy their lust. Each wife in the harem of a man was expected to be faithful to the husband, he had the freedom to visit the home of any wife or a concubine at his will. In Indian mythology, every mahanayak or great hero had several wives, with the exception of Rama, who swore that he would only marry Sita. Every godling is credited with several wives and romantic partners. Historically too, nawabs and maharajas routinely married several wives and had mistresses. Often, marriages were used for cementing political alliances. Women in both the above circumstances were brought up to believe that they would always have to compete to get the attention of the husband by looking beautiful, or serving him with devotion or somehow winning his favours. This need to please men and win their favours has historically remained as a residue among women even today. For countless generations, they have accepted that a woman's position in her husband's life is insecure and that he can get another woman any time. The fear or jealousy of a souten has been traditionally celebrated in classical dance and music and folk songs all over India.
However, today's woman is more worldly wise after 55 years of Independence. She is an equal participant of progress in the modern age of technology. Yet, the kernel of fear and insecurity has stayed in the secret recesses of her heart. Even in this techy age when women are educated, earning and self reliant men are still seen as more promiscuous than women which is why more women are engaged in prostitution than their male counterparts. Women faced by infidelity often choose security and social status over their self-respect!
Many women whose husbands are unfaithful tolerate their misdemeanours because of financial necessity. They do not have an income. Or, what they earn is not nearly enough to live a lifestyle they are used to. Mothers have an added fear that their children, if taken away, might suffer in their education and their future lives. Losing children to the father, who is considered the legal guardian, is yet another fear due to which women tolerate unfaithfulness in their husbands.
In several cases, when a husband is unfaithful, his family shows complete support and solidarity with the wife and the children. Women, though angry and anguished, stay on for the sake of the larger or extended family, which promises a normal life to her and the children. Yet other women, especially those in their later years, fear loneliness and the spectre of managing life single-handed. Most women are not trained or mentally prepared to handle every aspect of life on their own strength. For them to be father, mother, earner, homemaker and every other person to the children and the world at large is a frightening nightmare. They have not been brought up to deal with this responsibility, nor have they the experience.
A man at any age can get a much younger female mate — 'young enough to be his daughter' as they say — for money or lure of power and a deluxe lifestyle. There are few women who can afford to 'shop' for a suitable mate in the open market for attractive males. Though more and more elder-women and youngermen relationships are coming to light these days, most women find it difficult to relate to men young enough to be their sons. The motherly instinct debars them from seeking mates from the younger generation. The fear of hurting their children or losing their dignity in the eyes of their families and friends is a further disincentive in opting for extra marital relationships. It is also true that in middle-aged couples, the sex drive is often naturally less or completely dead, so that sex does not remain a barometer of the success or failure of a marriage. A dignified life, space for each other and enough money to live comfortably and provide for the children are much bigger issues than a random affair by the husband. However, the converse of this theory may not be true.
Most of all, the reason Hillary Rodham Clinton gave for staying in her marriage to Bill Clinton, who had not only been unfaithful to her, but also lied about his affair, applies to all women. They do not want to rock the boat of their lives as long as it helps them to remain afloat. "As long as he comes home to me and treats me and the children with dignity, what he does outside does not bother me," say most wives who opt for security and status quo!