M A I N N E W S
Manila standoff over after 19 hrs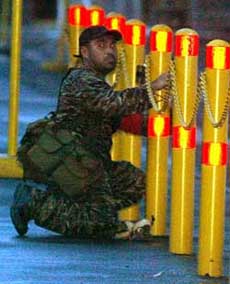 A renegade Philippines soldier sets booby traps in Manila's Makati financial district on Sunday.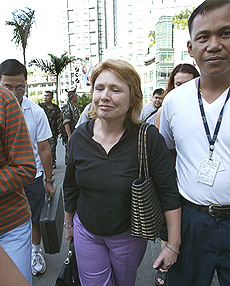 Australian Ambassador to the Philippines Ruth Pearce (C) and other foreigners emerge from the Oakwood building hours after being held by dozens of rogue soldiers in the Manila's Makati financial district on Sunday.
Manila, July 27
Renegade Philippine soldiers barricaded in a Manila shopping centre ended a nearly 19-hour standoff with the government today without a shot being fired, a negotiator said.
"It was agreed they would end the siege and they would march back to barracks," Colonel Danilo Lim, a member of the government panel that met the rogue troops, told reporters.
The mutineers, who accused the government of corruption and colluding with rebel groups, had demanded the resignation of President Gloria Macapagal Arroyo but later backed down.
Earlier, rebellious soldiers demanding the Philippine Government's resignation stormed a major commercial centre in Manila early today and wired it with explosives.
Hours later, more than 15 of the about 200 soldiers involved in the rebellion surrendered before government troops after the President ordered the military and the police to suppress the mutineers immediately.
The standoff began soon after President Gloria Macapagal Arroyo ordered the arrest of junior officers who deserted with their weapons and were believed to be plotting a coup.
Radio reports said the soldiers who surrendered walked from the building complex they had seized to a nearby car parking, where government troops were waiting.
Ms Arroyo issued a state of rebellion, giving the authorities power to carry out arrests without warrants. — Reuters

| | |
| --- | --- |
| | Philippine President Gloria Macapagal Arroyo raises her hands as she announces that renegade soldiers barricaded in a Manila shopping centre ended a nearly 19-hour standoff without a shot being fired, in Manila on Sunday. The mutineers, who had accused the government of corruption and colluding with rebel groups, had demanded the resignation of Arroyo but later backed down. — Reuters photos |