Racket of school uniforms
Renu Rangela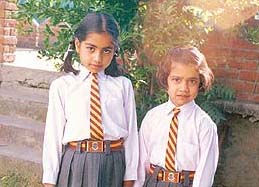 The market for school uniforms is not
quality driven
IT'S a multi-crore business without controls. And every year, it adds to the burden of the beleaguered parents as they struggle to give their children a decent education. The business of school uniforms and accessories in India has evolved into what parents allege to be a huge racket, with schools and dealers working together to rake in big moolah.
The extent of the growth can be gauged from the fact that some two decades back there were only 10 to 15 wholesalers and manufacturers in this business. Today, the figure runs into thousands, though only 10 per cent of them are manufacturers in the real sense of the word, with their own manufacturing units. The rest are either retailers, dealers or suppliers or those who outsource manufacture of various items from schools.
Despite such phenomenal growth and expansion, however, this business of school accessories, which encompass a wide range of items from uniforms, to badges, to belts and ties and tie-pins to shoes and bags— totalling up to more than 25, continues to be totally unorganised. Not only does it have no concept of ISO certification, it does not have even a semblance of quality checks to ensure the comfort of the young bodies and the care of their sensitive skin.
Though no specific data is available, doctors admit that many of the skin and other problems among school kids could be directly linked to the poor quality of what they wear. Says Sanjay Dhingra of Central Delhi : "We often get kids at our clinic who have some or the other skin ailment. It's quite possible that these are caused by bad quality of the fabric used in school uniform."
Another thing he has noticed relates to 'aching feet'. While parents generally dismiss it as the result of over-exercise or too much running around, Dhingra feels ill-fitting school shoes could well be a reason. Surprisingly, schools themselves are no stickler for quality and usually authorise suppliers or dealers to sell the uniforms and other accessories of their schools without bothering to check out their credentials. As one dealer, who did not want to be quoted, admitted : "It's all about money. Schools charge us a certain percentage for every student we cater to. So they usually end up going to the dealer who gives them the biggest percentage."
From that point onwards, begins a vicious cycle. The bigger the percentage offered by a dealer or a supplier to a school, the deeper it cuts into his own profit margin. And to compensate for that, he either simply passes on the loss to his customers or compromises on quality. Usually, it's the second route a dealer or supplier opts for, since the high level of competition existing in this field prevents him from an exorbitant hike in pricing.
This compromise generally begins with the quality of material used in the manufacture of uniforms, belts, badges etc. A glaring example of it is the fabric used in school uniforms. As of today, S. Kumar's is the biggest supplier of fabric for uniforms for school children. But poor quality fabric of similar design is easily available in the market at a much lower price. What's more, a lot of it comes with S. Kumar's logo stamped on it, so it becomes quite easy for the dealers to cheat schools as well as parents into believing that they are getting the best quality stuff.
But more often than not, it's only the parents who are at the receiving end, with the schools and the suppliers/dealers usually hand-in-glove in the business of making money out of this lucrative, though somewhat seasonal, trade. How deep-rooted the nexus between schools and dealers is can be evidenced from the fact that there are several schools that have different uniforms for different branches, despite a common management at the helm of the school affairs.
Apeejay is a prominent example of this in Delhi, with each of its branches having a different uniform, procured from different dealers. Neither the Apeejay management officials nor the principals of the various branches of the school are willing to explain this strange practice but dealers are quick to put the blame on the school management, whose bargaining power, they point out, gets strengthened by the competition among the various dealers.
An equally interesting case is of Delhi Public School. Though it has maintained a certain level of uniformity among its various branches by sticking to a common uniform pattern, the DPS Society has introduced a system of different monograms. X'perto suppliers of school uniforms, who are dealing in uniforms for nearly 50 top schools of South Delhi and the neighbouring states of Uttar Pradesh and Haryana, including DPS, have no explanation for this strange system.
The school monogram is considered to be the biggest problem. Parents say that because the monogram is mandatory, the shirt has to be bought from the school or from a shop authorised by the school management.
In the business of school uniforms for the last 34-odd years, Xperto in Lajpat Nagar Central Market also admits that the growth in this business has been whopping in these last more than three decades. Besides volume, there has also been a massive transformation in the variety of uniforms. Earlier, according to X'perto, uniforms were mostly plain. Now, it's a much more elaborate affair, with all kinds of accessories thrown in.
Being a seasonal business, concentrated mainly in the months of April-May for summer uniforms and November-December for winter, schools and dealers need to keep coming up with newer ideas to keep the business going all year round. One way of doing that is to go in for frequent changes in uniform, or some odd item of it. As one beleaguered parent put it, "Every year the school decides to change a part of the uniform. It is either the belt or the tie. In some cases, it is the colour of the trousers or the shirt. There is no option but to buy new ones.''
According to one estimate, 30 per cent of the schools across the country indulge in such a practice. Never mind if it's an unnecessary burden on the students and their parents. And interestingly, this is a pattern noticed throughout the country, even in the relatively more quality-conscious schools of South India.
What has really gone to the advantage of the schools and the dealers is the absence of any organised market for school uniforms and accessories. How atrociously money-centric this system is came to light in Delhi a few years ago when students of Tagore International School actually resorted to corporal punishment to penalise students for not sourcing their uniforms from the school store. The incident had outraged parents, who alleged that schools are raking in huge profits through these ventures.
According to Delhi Abhibhavak Sangh, "Children are always punished if their notebooks don't have the school's name on the cover or if the shade of their uniform does not match the school's. Teachers don't correct notebooks if they don't conform with the one sold in their school shop. At a number of schools, the inside of the shirt's collar is checked to ensure that it has been bought from the shop suggested by the school or the one in the school. Parents have no choice but to give in to these pressure tactics.''
Lack of quality consciousness and control is not the only negative aspect of this market. Absence of any concept of designing is another problem that plagues this business. According to Rohit Malhotra, proprietor of Meeta Enterprises, that has been in the business of making school uniforms and accessories for the last 22 years, the only time he was required to take design into account was when he was dealing with a Dubai customer about a year ago.
So far as India is concerned, uniform continues to be considered a necessary drudgery - monotonous and dull, and not something that could add a touch of the smart or the chic to the otherwise boring routine of going to school, or add to the confidence level of the young ones.